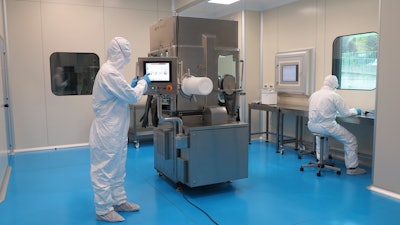 A cleanroom, or white chamber, is an environment designated as a laboratory, whose main characteristic is the presence of pure air, featuring a very low level of suspended dust micro-particles. It is a controlled atmosphere chamber (atmospheric pressure and particle pollution) dedicated to test products requiring a high isolation level.
MG2 has inaugurated a new area called "Pharma Zone," hosting three cleanrooms, where dosage trials and final tests with customers are carried out, using active products in real productive conditions. The cleanrooms are an essential asset in the validation of pharmaceutical productive processes, a context where MG2 can further support customers with its service of "technical batches" production—batches manufactured prior to full-scale cGMP production, used to fine-tune processes.
Pharmaceutical companies often entrust contract manufacturers to carry out such technical batches. With the installation of its cleanrooms, MG2 has expanded the range of services offered to its customers, supporting them from the design phase of the productive process up to testing phases right before the product marketing.
The making of a cleanroom
The initial input aimed at increasing the safety of employees, both those working in contact with the products to be tested and those working in neighboring areas, decreasing the possibility of contact with potentially unhealthy particles.
This was necessary because MG2 carries out tests by using different drugs (or placebos) in very fine powders, which could cause complications such as allergies. During preliminary designing phases, it was understood that the presence of cleanrooms inside the company could be an important opportunity to support the relation with the customer. By increasing the range of products that can be directly tested inside MG2's premises, it is possible to work on eventual critical points prior to machine's installation, leading to time and cost saving, for both MG2 and the customer.
Started in the summer 2015, the design of the Pharma Zone was entrusted to an engineering company with global experience, starting from a close cooperation with customers that supplied MG2 with important indications about the necessary features of these environments. The new MG2's cleanrooms have been operative since the beginning of September 2016, increasing the area dedicated to tests and trials, bringing to six the number of total rooms dedicated to these activities.
The rooms are completely autonomous, with everything arranged in order to avoid "cross contamination" between one environment and another, including aisles and changing rooms, which have been conceived in order to guarantee controlled access, with different levels of authorization to move from one area to another, as well as expedients to avoid mistakes.
Operators must undertake special training before entering the cleanrooms, and follow specific protocols. As a further security guarantee, each environment features constant air recirculation and is also equipped with pre-filters and HEPA H14 filters suitable to hold particles of very reduced diameter.
MG2 cleanrooms are designed to guarantee 20 cycles of total air recycle/hr. It is possible to change parameters such as temperature and humidity, which are essential during product tests, for each room individually. For example, the percentage of air humidity can be adjusted in a range from 20% up to 65%. This has influenced the environment design; for instance, metal laminates suitable to resist thermal stress build the wall partitions. Each room is equipped with computer workstations, wash stations and weight control systems to guarantee the maximum autonomy and complete tool sets for each working environment.
Companies in this article