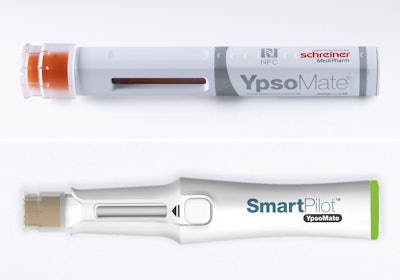 Schreiner MediPharm, global provider of specialty pharmaceutical labeling solutions for over 65 years, in cooperation with Swiss-based Ypsomed, has developed an NFC-Label that is applied to the YpsoMate® autoinjector.
Stored information about the medication is transmitted to its reusable add-on with embedded sensor technology—the SmartPilot™—and is recorded via the autoinjector and logged by the SmartPilot. The resulting connected device is designed to enhance the safety of patients and assist them in the self-administration of medicines to better comply with prescribed therapies.
YpsoMate is an autoinjector for self-medication of a wide range of pharmaceutical substances and in a diverse range of therapeutic areas. To turn this injection platform into a smart device, Ypsomed developed the SmartPilot. The autoinjector is pushed into the SmartPilot and is automatically recognized due to the NFC-Label applied to the injection aid. The information about the medication stored on the NFC chip is transmitted via the SmartPilot to a related smartphone app via Bluetooth connection.
The technology behind this connected device is the interlinking of diverse sensors and the label with an integrated NFC chip, which Schreiner MediPharm adapted for YpsoMate. The NFC chip identifies and authenticates the medicine and checks its expiration date.
According to the prescribed therapy, the patient can be guided in real time through the injection process by means of the SmartPilot sensors, and feedback on the correct administration of the medicine can be transmitted. It is also possible to store the entire injection history in detail—from injection time and success through to patient well-being—and to share it with other stakeholders. The attending physician, for instance, is then able to use this information to adjust the continuing therapy plan.
One challenge posed by the system during development was the integration of NFC technology in a very small space. Subsequent ease of processing was another important objective met.
Companies in this article