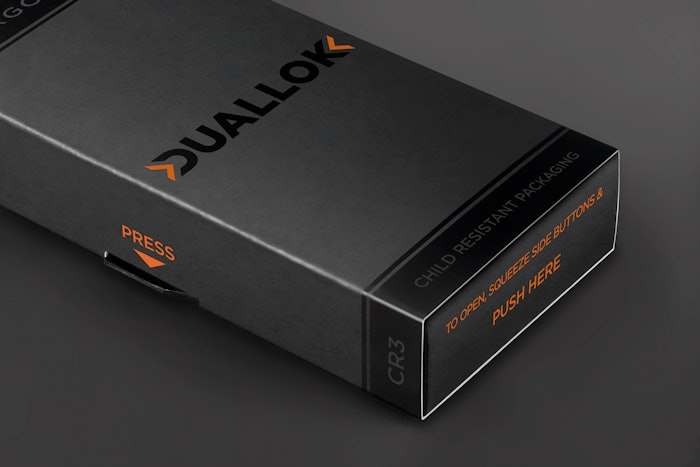 Developed by an award-winning design team to provide the most beautiful, user-friendly and compliant package for high-end controlled substances, Burgopak's Duallok CR3 uses a patented double lock design. It is certified under the 16 CFR 1700 guidelines for child-resistance, keeping kids safe and brands compliant.
The pack consists of a card-based tray and sleeve (imagine a very premium matchstick box) with reinforced end-beams and a locking system. When closed, the contents are securely locked within the pack, providing a reliable barrier to entry by children.
The contents are accessed by pressing two buttons on the side of the pack and pushing the tray out of the sleeve. This three-step process creates a cognitive challenge beyond the problem-solving capabilities of young children. But for adults, the simple directions printed on the outside of the box provide enough insight to open the package.
Once learned, the opening experience is a simple, intuitive interaction that has passed senior trials for easy opening.
The robust locking system is made from a thin polypropylene tab, which is die-cut to reduce production costs. It is inserted into the tray component to form the locking buttons. This piece is easily removed after use and carries all relevant information to aid recycling.
The format can be tailored to suit a range of products that fall within the controlled substances category with the added potential for bespoke configurations.
Companies in this article