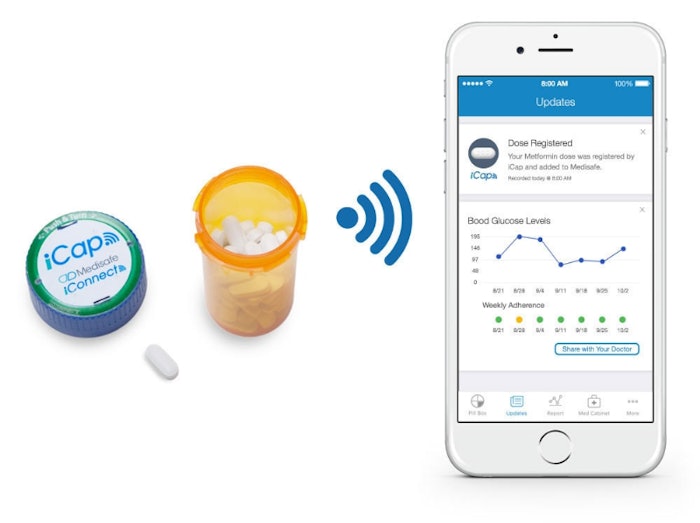 Medisafe®, a personalized medication management platform with almost three and a half million patient and caregiver registered users, and TimerCap™, manufacturer of millions of medication reminder caps,announced that the first product in the iConnect suite, the iCap™, is available for shipping at medisafe.com/iconnect.
The iCap is a wireless Bluetooth cap for prescription pill bottles that works in conjunction with the Medisafe app and allows patients and caregivers to accurately track when pill bottles are opened to help determine whether medications are taken or missed.
Until now, Medisafe relied primarily on user responses to in-app notifications to determine whether they took their medications. The iCap adds another way to validate and record this information, which gives both users and their Medfriends— loved ones who serve as caregivers on Medisafe—greater comfort when determining if medications were taken as prescribed. The iCap can also alert a user and a Medfriend if the cap is opened at the incorrect time, which can help prevent incorrect dosing and accidental overdoses.
Setting up an iCap is simple. After adding a medication to the Medisafe app, a user is prompted to "pair" the cap (and associated bottle) with Medisafe. There are no buttons to press; when a Medisafe user opens the cap, Medisafe is automatically updated with which medication was taken with a time stamp.
Medisafe iConnect is a technology solution for non-adherence. It combines Bluetooth-enabled hardware and and a scientifically proven adherence platform as part of a new category of products designed to be affordable andaccessible to patients worldwide.
TimerCap and Medisafe indicate they joined together with a breakthrough in quality, price, robustness and approachable technology to meet the needs and concerns of patients, caregivers, pharmacists, pharmacy benefit managers, distributors, payers, healthcare systems and pharmaceutical companies.
Each iCap package includes:
• Two child-resistant iCap wireless pill caps
• Two standard-size prescription pillbottles
• Color-coded iCap top to distinguish one medication from another
• An easily-replaceable coin cell battery designed to last up to 12 months (depending on usage)
The iCap package, which comes in a two-pack, retails for $39.95 and includes free domestic shipping.
Companies in this article