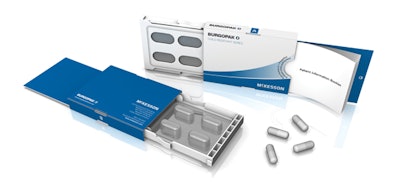 Consumer Product and Safety Commission's F=1 for child resistance for a new pack size, in conformity with US regulatory standards for poison prevention packaging.

The new pack uses the same innovative locking mechanism as the original child-resistant design, which keeps the sliding blister tray and patient information leaflet (PIL) connected at all times. To open the pack and access the medication the patient pushes on two release buttons on either side of the pack with one hand while simultaneously pulling the highlighted tab with the other. The tray slides open to reveal the blister on one side with the PIL on the other. To close the pack the patient pushes the tab back into its original position, locking the tray back in place. The design keeps the blister, PIL, and outer carton permanently connected, supporting better patient compliance through keeping vital patient information alongside the medication.

The new pack dimensions are 100 x 72 x 15 mm and can accommodate aluminium or PVC blisters sized up to 70 x 57 x 9 mm, with the maximum tablet/capsule count dependent on exact product specifications. During testing the new format achieved a pass rate of 96% for child resistance and 99% for senior-friendly effectiveness from certified test, while through a separate certified test achieved 98% for child resistance and 98% for senior friendly.

The new child-resistant pack also utilizes a new tear-resistant material that is recyclable. The classified '5' plastic material differs from other tear-resistant boards that use plastic laminates that make recycling or composting very difficult. The material was sourced to offer pharmaceutical and healthcare companies a more environmental packaging option compared to current tear-resistant options on the market.
Companies in this article