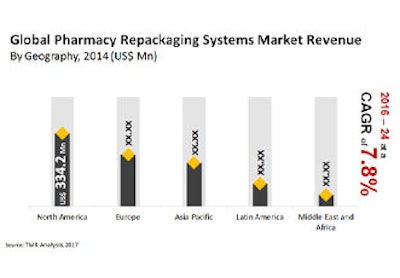 Around the globe, and particularly in North America and Europe, the pharmacy repackaging market is thriving. Behind the growth are numerous factors, including the following:
• Increasing number of medication errors and a growing need to improve patient safety
• Rising awareness about benefits of automated systems among health care providers and pharmacists
• Rising need of health care providers and pharmacists to get more time for patient care and assistance
• Growing focus on reducing cost and waste of inventory
• Technological advancements such as barcoding allow incorporation of new technologies to improve operational efficiency
• Availability of outsourcing facilities for repackaging serves as an advantage to hospitals with limited resources
• Patient inclination and caregiver concerns driving hospitals and pharmacies to adopt pharmacy repackaging systems
These drivers come from a new research report by Transparency Market Research (TMR), which estimates the global pharmacy repackaging systems market will expand at a steady 7.8% rate between 2016 and 2024. In 2015, it says the market was worth $997.1 million, predicted it to reach around $1.8 billion by the end of 2024.
The pharmacy repackaging systems market is categorized based on product placed into pouch packaging automation systems, liquid medication packaging systems, blister card/compliance packaging systems, bottle filling/pill counting automation systems, etc.
Among these package types, the blister card/compliance packaging systems segment is anticipated to lead the global market in the forthcoming years. The emergence of this segment will be attributable to the ability of this method to reduce dosage waste by allowing pharmacies to repack medicines as per patient requirements. Blister card/compliance packaging systems also help ensure patient compliance.
Geographically, Europe and North America market are expected to dominate the global market due to health care developments and a well-established infrastructure. TMR says the infrastructure in these two developed markets has focused on "developing their medication workflow by shifting toward pharmacy automation systems, including repackaging systems. Moreover, promising reimbursement programs in the region[s] is anticipated to increase demand for these technologies during the forecast period, especially in North America. Countries in North America are rapidly advancing the frontiers of technological development as well as setting stringent standards for medication management. This, in turn, is likely to propel demand for repackaging systems in the regional market, which caters to the basic requirement of customized dosage in various end-user domains."