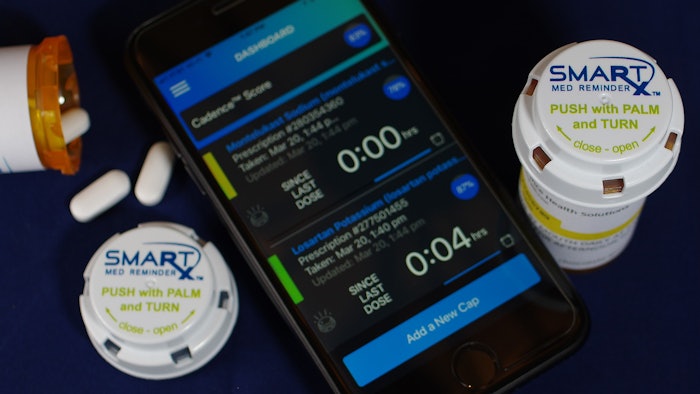 A Purdue-affiliated startup is developing a low-cost, high-tech solution to address the nationwide health crisis of Americans failing to take their medicine as prescribed. The Internet of Things system reminds patients to take medications and quickly alerts caregivers or providers when intervention is needed.
Concordance Health Solutions Inc. is answering the call to fight a problem that The New York Times described as "an out-of-control epidemic in the United States that costs more and affects more people than any disease Americans currently worry about."
The Centers for Disease Control and Prevention estimates 20% of the 3.8 billion prescriptions written every year in the U.S. aren't filled. Among those that are filled, 50% are taken incorrectly, especially when it comes to timing, the CDC says. That includes medications intended to prevent costly complications, reduce hospitalizations and even those drugs necessary to keep people alive.
"Failure to take medications as prescribed is a big barrier to wellness," says Laura Downey, Concordance Health Solutions Co-Founder and lecturer at Purdue University's Krannert School of Management. "We wanted to create a system that is easy for the patient to use, provides timely information to caregivers and providers, and is economical for payers."
There is a strong market need. A review in the Annals of Internal Medicine estimated the lack of adherence to taking medications costs the American health care system up to $289 billion a year and causes about 125,000 deaths and at least 10% of hospitalizations. The U.S. Office of Inspector General says nearly a quarter of all nursing home admissions could be avoided if people took their medications as prescribed. Concordance Co-Founder Steve Klink owned a chain of retail pharmacies and saw firsthand how patients struggle to take their medications as scheduled and the cost that led to for insurers.
Concordance's first-launched product is the Smart Med Reminder system, which includes a connected prescription vial cap, companion mobile apps and a cloud-based service that reminds patients to take their medication and monitors their progress.
Pharmacists automatically program the system when dispensing the prescription. The medication container and mobile app alarm on a predetermined schedule; other features in the system create incentives for taking the medication correctly and give patients and their care providers detailed data about how it is being taken, all in compliance with Health Insurance Portability and Accountability Act requirements.
The Smart Med Reminder mobile app is available for iOS or Android devices and reports each dosing event to a secure database. With features such as alarm time customization as well as a unique scoring system, the mobile app encourages the patient to closely follow their schedule to get the most benefit from their medication. With permission from the user, the system will notify interested partners, including family members, providers, insurers, or pharmacists, when the medication was taken, and more importantly, when it was missed.
"In addition to ease of use by patients, Concordance also understands that this must be simple to implement in the pharmacy. Pharmacists program the cap in a matter of seconds using a QR code or barcode scan," Downey says. "Concordance's software pulls the patient information and dosing information from the pharmacy database to automatically program the cap.
Downey believes this simplicity helps to differentiate the Smart Med Reminder system from other products on the market. In addition, the Smart Med Reminder system is an economic medication event monitoring system.
"It helps ensure the patients are taking their medications when they are supposed to, and it helps both patients and health insurers lower their cost of care as patients stay healthier," she says.
Concordance is also planning to adapt the system to other connected dosing devices such as inhalers, injectables, and pill boxes. Future iterations of the software will run on voice-activated personal assistants, such as Amazon Alexa, Siri, Google Assistant or Cortana.
Kevin Haehl, Executive VP of Concordance Health Solutions, explained how the Smart Med Reminder system could provide a more accurate measure of medication adherence, meaning they are following the prescription instructions. Insurance companies currently track this through prescription refill data which only tells whether patients possess the medication.
"It's like assuming a person is following an exercise routine if they have a gym membership. The problem with that," Haehl says, "is with automatic 90-day refills becoming the norm, the earliest opportunity to know about a problem is up to three months too late."
Haehl also says forgetfulness and patients being busy or distracted are the primary reasons people fail to take medications. "We often think it's senior citizens who need help to take their medications, but studies show that non-adherence is very common in adults with busy and active lifestyles, especially those with diseases that don't have clear symptoms such as high blood pressure, diabetes or high cholesterol. A lot of people just don't understand how poor their adherence is, because they don't have an easy tracking mechanism. Our system lets them see the patterns and engages with them to improve with very little effort."
Concordance Health Solutions is looking at employers and insurance providers as primary customers for the Smart Med Reminder system. Downey said research shows payers will realize value by including the system with their patients' prescriptions, because patients will take their medications as prescribed resulting in lower health care costs and higher employee productivity.
"The cost of health care goes up exponentially when people don't take their medications correctly," Downey says.
Downey says Concordance has received help from the Purdue Foundry, an entrepreneurship and commercialization accelerator in Discovery Park's Burton D. Morgan Center for Entrepreneurship. Downey says the Foundry provided mentorship, facilities and services as well as a seed grant.