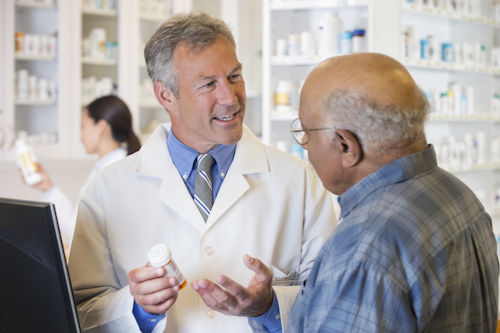 Independent community pharmacies are increasingly providing services to support patient compliance with their prescribed drug regimen (or medication adherence) and set a new record high in the proportion of prescriptions filled with typically lower-cost generic drugs, according to the National Community Pharmacists Association's (NCPA) 2014 Digest, sponsored by Cardinal Health.
Sixty-seven percent of independent community pharmacies are offering patients some type of medication adherence program, which represents a substantial increase over the survey's past two annual findings of 48% and 39%, respectively. These pharmacists are counseling patients, sending text reminders, calling patients, and providing other tools to improve medication adherence among their patients. In addition, the Digest found that generic drugs accounted for 78% of total prescriptions, another increase over prior years.
"According to the Digest, locally owned pharmacies are playing an even more integral role in U.S. health care," said NCPA CEO B. Douglas Hoey, RPh, MBA. "Community pharmacists are more often counseling patients to improve medication adherence and more frequently conferring with physicians on ways to improve the outcomes of prescription drug therapy. Small business community pharmacies make important economic and civic contributions to their hometowns as well, the Digest shows."
"We realize that community pharmacists play a unique role in helping improve our nation's health care system," said Ron Clerico, Vice President of Retail Marketing at Cardinal Health. "Health care is changing and we must evolve to meet new expectations. It is more important than ever for community pharmacies to understand the current thinking and trends."
Other highlights from the Digest, which analyzed 2013 data (the most current full-year data available), include:
• There are an estimated 22,814 independent community pharmacies, which is a slight reduction from the previous tally of 23,029.
• Prescription volume remained relatively flat (62,424 prescriptions annually on average) despite a growth in overall U.S. prescriptions, possibly due to insurance plan requirements or other inducements for patients to fill certain prescriptions, including specialty drugs, through proprietary mail order facilities as well as exclusionary "preferred pharmacy" (http://www.ncpanet.org/advocacy/pharmacy-choice) networks in Medicare.
• These pharmacists interact with physicians 8.7 times daily on average on prescription drug therapy, compared to 7.5 in the last Digest survey. These doctors agree with and implement pharmacists' generic product recommendations 91% of the time and other therapeutic recommendations 78% of the time.
• More than 70% of independent pharmacies are serving areas with population less than 50,000 and 36% are located in areas with a population less than 10,000, underscoring that these providers are often a critical access point to health care. It's in these communities that pharmacy small business owners have their greatest impact not only economically by creating employment opportunities and generating tax revenue, but also through civic contributions that help make their communities unique and great places to live.
• In addition to providing prescription drugs, community pharmacies' offered a range of personalized health services, the most common of which were same-day, home delivery, followed by patient charge accounts and durable medical equipment (DME). Many community pharmacies also host disease state management services and the three most prevalent were immunizations (62%), blood pressure monitoring (59%), and diabetes training (37%).
The National Community Pharmacists Association (NCPA®) represents the interests of America's community pharmacists, including the owners of nearly 23,000 independent community pharmacies. Together they represent an $88.8 billion health care marketplace, dispense nearly 40% of all retail prescriptions, and employ more than 300,000 individuals, including over 62,000 pharmacists.
Companies in this article