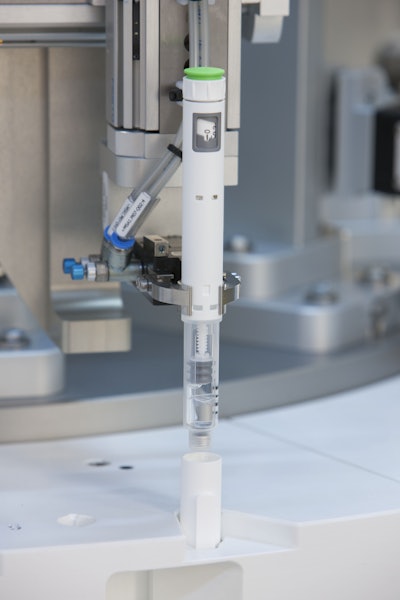 Our lifestyle is becoming more and more individual, agile and independent. This also influences the way we view and use medication. Self-administration is trending wherever possible, giving patients maximum autonomy and flexibility. While self-administration of insulin is already state-of-the-art in diabetes care, it is also advancing in some areas of oncology or hormone therapy.
Along with the globally increasing number of diabetes patients, the market for insulin is growing continuously—and with it the demand for pens and other injection aids. The growing demand for pens and auto-injectors calls for flexible assembly machines that allow for a fast time-to-market of a large number of different products.
Pens are currently the most widely adopted system for insulin injection, mainly due to their ease of use. Instead of using insulin in vials, which requires a syringe to inject the fluid and a considerable amount of experience in dosing and syringe injection, pens are loaded with insulin-filled glass cartridges. The rear end of the cartridge is closed with a rubber stopper, while the front end is closed by an aluminum cap with a puncture membrane, into which a needle can be inserted. At the top, the device is equipped with a dosing mechanism, which can easily be turned to adjust the amount of insulin that needs to be injected.
Easy and safe handling of the pens is the most important criterion for patients, as it gives them more flexibility in their daily life. Thanks to today's self-monitoring of blood glucose, patients are able to calculate their individual insulin dose. Pens are used as multiple application systems, usually containing insulin for several units. Depending on the individual requirements, one pen can last for up to a week; only the needles must be replaced for hygienic reasons. Due to the efficient design, pens can be taken anywhere conveniently, and can be applied without much effort, even by kids.
Auto-injectors embody flexibility
Auto-injectors pursue the same trend as insulin pens, consequently leading to a higher use. One reason is the general trend towards biological drugs, which cannot be administered orally but need to be injected. There is a major shift from standard syringes to auto-injectors, which follows the pursuit for self-administration. Besides for allergic shocks, auto-injectors are increasingly used in other areas such as the treatment of orphan diseases in oncology or hormone therapy, where multiple doses are needed over time. Rather than having numerous doctor appointments to receive injections over several weeks, patients have the option to administer the medicine more conveniently at home.
Even though auto-injectors are often more expensive in production than standard syringes, both patients and the health care system benefit from this new freedom of self-administration. The number of medical appointments is reduced in the long run, and patients gain more flexibility in their daily life. This trend has already spread in western countries and is now also picking up in markets such as India, China, Southeast Asia, the Middle East and Latin America. The need for this kind of medication is expected to grow in coming years, leading to a rising demand for these devices, as well as for corresponding manufacturing solutions.
A scalable approach
When producing auto-injectors or insulin pens, drug manufacturers need assembly machines that match their individual requirements. Although many injector and pen types have a similar composition, they still vary in design, shape and size. Pharmaceutical companies producing for different regions and markets usually obtain their pens and auto-injectors from different manufacturers and therefore require platforms that are able to handle more than just one specific device. As a result, they are looking for highly flexible machines in the medium output range.
Companies in this article