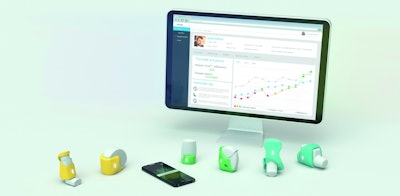 To meet its goal in empowering patients to achieve better health outcomes and improve medication adherence, London-based Amiko Digital Health Ltd. is developing advanced sensor technologies and Artificial Intelligence-powered mobile health products.
Earlier this month, Amiko and supplier Sanner presented their cooperation for the development of "smart" add-ons for inhaled drug delivery systems at Pharmapack Europe.
Sanner Ventures, parent company of Sanner GmbH, is supporting Amiko with a strategic investment in which funds will be used to expand Amiko's flagship product, the Respiro platform, a respiratory disease management tool.
Amiko CEO and Co-Founder Duilio Macchi says, "With Sanner, we have found the ideal partner for the integration of our technology. Sanner has the expertise in plastic primary packaging solutions and drug delivery systems. We have the know-how in sensor technology and AI. By incorporating our sensors in new packaging systems and customized add-ons we will jointly help pharmaceutical companies to provide patients with digital solutions beyond the pill."
The Respiro platform recently received the CE mark for use with certain inhaler systems. It enables real-time monitoring of medication use and patient health. Respiro Sense sensors are attached to dry powder inhalers to not only track device usage, but also facilitate medication adherence by ensuring the medication is administered in the right way following the right technique.
"Our digital health tools assist healthcare professionals and empower patients to achieve better respiratory treatment results," says Macchi. "Together with Sanner, we will advance our mission to upgrade respiratory care, improve health outcomes and reduce the costs of care for pulmonary diseases via AI-powered mobile health solutions."
Companies in this article