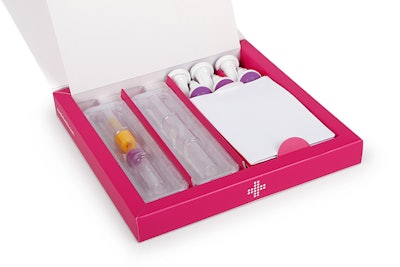 Medichecks is a Nottingham, UK-based maker of blood, urine and laboratory blood tests. It sells thousands of tests yearly, from individual markers like vitamin D or testosteroneto complete wellness profiles checking for diabetes, heart disease risk, hormonestatus and more. Recently it launched its blood tests in new, user-friendly, multi-functional and attractive new packaging that aims to make blood tests easier and more accessible.
Medichecks worked with packaging design agency Burgopak to create a pack that enhances the testing experience and communicates instructions for use clearly to minimize user error. The companies worked together to develop a flexible solution to accommodate multiple combinations of test equipment that are easy to fulfill, robust and offer a limited depth to meet postal restrictions. The pack was also required to extend Medicheck's brand values of reliability and trustworthiness through the user experience and overall look and feel.
Burgopak, which has worked in the nutraceutical and pharmaceutical markets for a decade, designed a pack that clearly lays out the different steps to be taken for the blood test and exposes information and equipment in stages, effectively leading the user through the process in a simple, straightforward way. The pack consolidates the different testing equipment in a single packaging unit while simultaneously presenting the contents in an organized and neat way. The pack itself becomes an integrated part of the testing process in that it provides a handy and easy way to hold test tubes in place and in order.
Alun Hindle, Medichecks' CEO, says, "We're very happy with the new pack. The boxes make packing the kits much easier and the feedback we have had from customers is very positive. We have seen a definite pick-up in activity this year as a result of this and other various new marketing activities."
Companies in this article