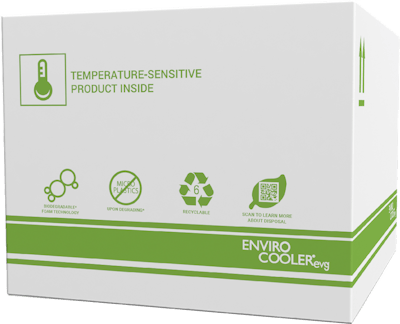 Lifoam Industries, LLC, a business segment and subsidiary of LifeMade Products LLC, announces the addition of a sustainable technology platform to its temperature-controlled EnviroCooler packaging line—the EnviroCooler EVG. The product is part of the company's initiative to proactively and positively impact the reduction of plastic waste, without sacrificing performance or end-user convenience. The cooler is the first of several sustainable product offerings in 2020.
The EnviroCooler EVG is an expanded polystyrene (EPS) cooler infused with a bio-based additive, designed to allow it to break down in a bioreactive landfill in four years. This product is not an oxo-biodegradable material, should not leave behind microplastics, is made to have no shelf life concerns, and should meet FDA 21 CFR standards for food contact—all with a thermal and material performance equivalent to typical EPS. The material is also Recycle 6, at over 400 commercial recycling facilities and accepted curbside within 95 local municipalities across the United States.
"Our move into sustainable options is something we viewed as crucial to improve the world we live in," says Mark Gettig, president of LifeMade. "We wanted to create an accessible system that is more environmentally-responsible and easy to dispose of, while delivering the same performance and quality expected from Lifoam. Our design considered the viewpoint of the end-user—if it's not easy, oftentimes a sustainable system is overlooked. With the EVG material version of EnviroCooler, the pharmaceutical companies, doctors' offices, and patients have options to dispose of the product in a way that is comfortable to them and offers a better end-of-life option when disposed."
As an advanced bio-infused material, EnviroCooler EVG is made to be disposed of without adjusting routine and lessen the need for sorting or separating, which should give the end-user a more sustainable option without sacrificing convenience and performance.
Companies in this article