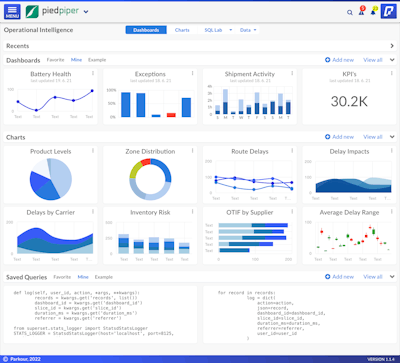 ParkourSC, a leader in supply chain technology solutions, has expanded its digital supply chain operations platform by delivering intelligent digital twins specifically designed for real-time supply chain operations across the extended enterprise.
The ParkourSC platform will enable users to:
● Improve resilience by deploying intelligent digital twins for the end-to-end supply chain. Digital twins help users overcome data and organizational silos by defining the attributes and relationships across all the entities in the value chain, including companies, suppliers, warehouses, logistics, distribution centers, customers, software systems, locations, sensors, and products. Then, users automatically monitor supply chain performance by embedding low-code/no-code recipes, AI/ML models, business rules, and key performance indicators and thresholds specific to their business using low-code/no-code workbenches.
● Continuously align planning and execution by delivering ground-truth and predictive intelligence to planning applications. ParkourSC bridges the gap between planning and operations by improving the accuracy of supply, demand, and integrated business planning by surfacing the impact of any unanticipated issues in supply chain operations to improve reliability and on-time delivery.

● Foster collaboration and automation across the extended enterprise by sharing digital twins and automating workflows across the extended enterprise, including suppliers, partners, customers, and other entities. Shared digital twins help standardize and collect supporting information for business processes across entities, provide ground-truth to all stakeholders, and provide the agility to take action when delays or other excursions occur.
● Drive business innovation and growth by using the ParkourSC platform to easily adjust business models and deliver new products and services to customers. With ParkourSC, users can bring together products, suppliers, logistics, IoT, contextual data, analytics collaboration, and other elements of the supply chain to deliver new technology-enabled offerings to customers.
Companies in this article