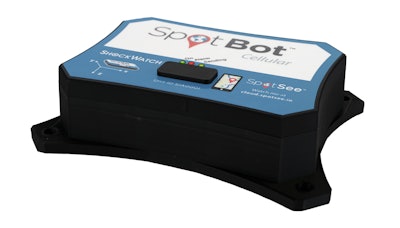 SpotSee, provider of shock and vibration monitoring through low-cost connectivity and data, is increasing visibility into the supply chain for the logistics market by delivering real-time, critical shock and temperature indicators through its leading brands SpotBot™ and ShockWatch®
The company says an average shipment is handled 10 times before it reaches its destination. SpotSee adds visibility to the supply chain by connecting users with their assets through connected solutions and indicators that inform them when products are mishandled.
SpotSee indicators and recorders, including SpotBot Cellular, SpotBot BLE and ShockWatch 2, give users insight into how their products are being handled during shipping. Depending on the product, SpotSee's customers can use temperature, vibration, impact or tilt monitors, most of which can be seen in real time.
SpotBot Cellular is a standalone device that delivers impact monitoring with x, y, z direction (tri-axial) and live tracking through SpotSee's own cellular network. This enables users to visualize and access their data in the cloud from any web-based device.
SpotBot BLE makes the supply chain transparent by measuring and recording temperature, humidity, tilt and shock. Each indicator is individually configured. Any violation of the set threshold is traceable throughout the entire supply chain.
The company also provides single-use devices that determine if fragile products have been dropped during transit or storage. ShockWatch 2 impact indicators turn bright red when an impact beyond a certain threshold has occurred, discouraging product mishandling.
Companies in this article