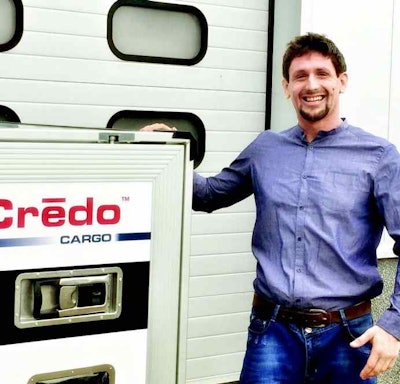 Pelican BioThermal, supplier of temperature-controlled packaging, showcases its latest technologies, including Crēdo™ Cargo, its newest reusable passive bulk shipper, as part of IQPC's 15th Annual Cold Chain GDP & Temperature Management Logistics Global Forum in Chicago, at booth 712.
The Crēdo Cargo bulk shipper (shown here with Lead Designer Sean Austerberry), was recently added to the company's Crēdo™ on Demand rental program, and will be showcased during the event as part of Pelican BioThermal's InnovationShare 2017 roadshow. The roadshow, which begins today in Allentown, PA, arrives in Chicago on Sept. 28 and will continue on to Torrance, CA next week. InnovationShare 2017 will include informational sessions and demos with Crēdo Cargo's lead designer, and offers a unique opportunity for current and potential customers to experience the product firsthand and inquire about the technology and design philosophy behind its development.
Crēdo Cargo and Crēdo on Demand are reusable, passive packaging options are not only a sustainable choice, but can also help reduce overall cost, while meeting payload, temperature range and duration protection requirements.
Companies in this article