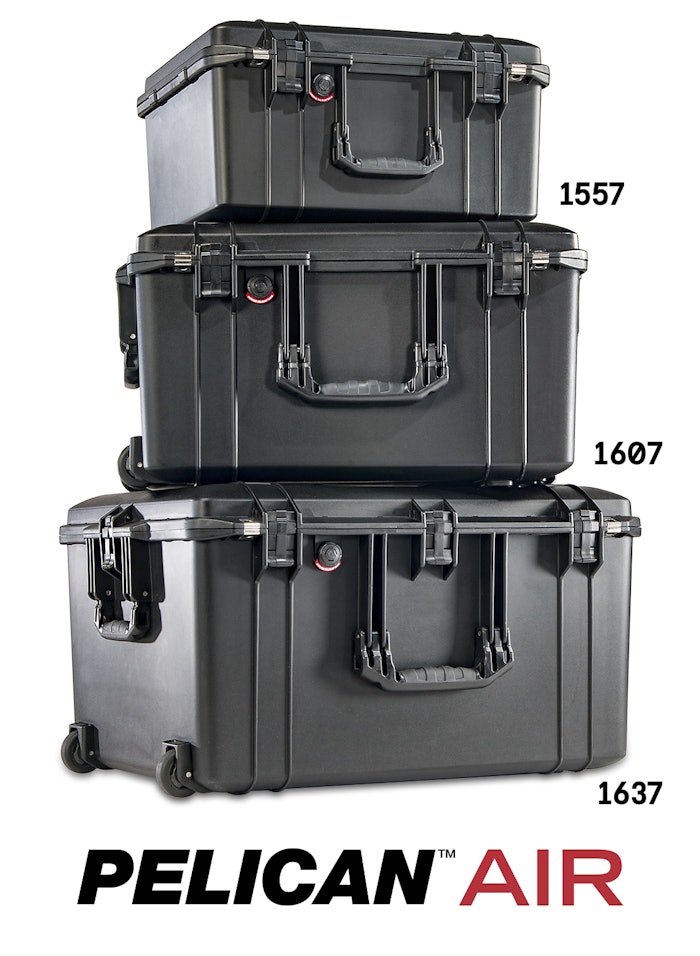 Pelican Products, Inc., designer and manufacturer of high-performance cases, launched three new deeper cases in the re-engineered, up to 40% lighter, Pelican™ Air Case line.
As a part of the lighter Pelican™ Air case line, the three new cases, 1557, 1607 and 1637, offer users more versatility, portability and durability.
The Air case line represents a major transformation, designed to maintain the company's signature concept of performance durability while cutting the weight out.
The entire Pelican™ Air case line, constructed of lightweight, next-generation HPX™ resin, is available in nine travel-ready sizes, in both long and, now, deep options. With over 13 in. of depth available, the new cases provide room for fragile and valuable equipment, such as drones and cinema-grade cameras. Pelican
The Air cases continue to be the gold-standard of premium equipment protection while remaining 40% lighter and now 45% deeper. All cases are available in black, yellow, orange and gray.
Available configurations offer the choice of four interior options to meet almost any performance needs:
• The TrekPak® Divider system (not available with 1607 or 1637), feature durable, waterproof, closed-cell foam, laminated to corrugated panels to provide a fully customizable and precise protection grid without wasting space.
• The Classic Pick N' Pluck™ Foam offers a manually customizable offering for fast and simple protection with pre-scored foam to fit almost any equipment.
• The Padded Divider configuration includes customizable, protective, padded dividers with Velcro™ so users can change their equipment organization scheme on a moment's notice.
The new 1607 and 1637 cases have wheels, roll tested over 914 meters. The line's newest three products have case features that include a watertight O-ring gasket, a crushproof and dustproof exterior, stainless-steel hasp protectors, rubberized, over-molded handles and proven tough double-throw latches. Each Air case meets the same performance tests (impact, drop, submersion and high and low temperatures).
Companies in this article