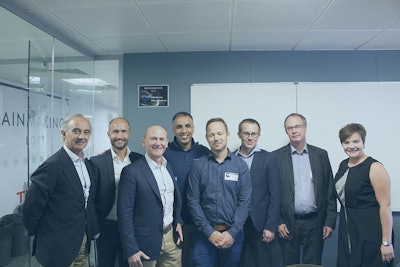 Earlier this year, sustainable paper/paperboard provider BillerudKorsnäs announced it was taking a further step into the Internet of Packaging by investing in Hanhaa, mobile services firm focusing on the Internet of Things (IoT) and machine-to-machine applications.
Hanhaa's ParceLive parcel tracking service allows users to track not only the location but also the condition of their deliveries in real time and on a large scale no matter the country or carrier.
The investment is being made by BillerudKorsnäs Venture AB, which was formed last spring to develop new business for the Group by linking up with interesting innovation companies in the early stage. The objective is to gradually generate and develop new business. The aim is to work closely with companies and actively contribute to developing new solutions in the packaging value chain.
"Combining our own core-related skills with the skills of these start-up companies will allow us to create fruitful collaborations and together identify entirely new solutions. We will also draw on our experience and knowledge of bringing products to market on an industrial scale. Together with Hanhaa, we're continuing to build tomorrow's Internet of Packaging. Expanding our offering of digital solutions will allow us to continue challenging conventional packaging for a sustainable future," said BillerudKorsnäs Venture Managing Director Anders Persson.
Parcelive tracks deliveries along the entire logistics chain. Transmitter devices are placed in parcels and use GPS and GSM to track their position. Sensors measure and report in real time the condition of the goods, their location and what they have been exposed to in terms of temperature, drops and knocks. The system works regardless of country, scale or carrier. The devices are managed using a return system. The recipient pushes a button to prompt the display of a return address and then posts the device back.
"BillerudKorsnäs' wide-ranging skills and network within sustainable and efficient packaging solutions make them a perfect partner as we take our technology out into the logistics and packaging industry on a large scale," said Azhar Hussain, CEO of Hanhaa.
The solution is especially suited to logistics optimization, continuous cold chain management, high-value goods and time-critical shipments, allowing maintenance engineers to avoid expensive production losses by tracking consignments and precisely planning trips to customers.
Hanhaa's perspective
The funding and global support from BillerudKorsnäs will help Hanhaa expand its team and allow it to focus on bringing its ParceLive service to market. Hanhaa says, "ParceLive is revolutionizing an industry with new capabilities and insights never before available. Parcels can now be monitored from pick-up through to delivery, allowing users to see exactly where parcels are, what's happened to them, the environment they're in and their security. ParceLive creates a direct relationship between the parcel and the sender wherever in the world, whoever the carrier."

The technology is designed and built in London, and the investment will allow the company to move past trials and onward to larger scale manufacturing inside the U.K. ParceLive has already been tracking parcels in all the major parcel networks across four continents.

Following a series of successful pilots, ParceLive is entering into a larger industry rollout with logistics companies including Sigma Retail Solutions and Avarto Bertelsmann; just two of a growing network of partners that serve some of the world's most-recognized brands.

The first wave of the rollout will involve 500 ParceLive devices tracking real parcels on their journeys across the world. The company is on track to produce 20,000 units for general availability by mid-2017.