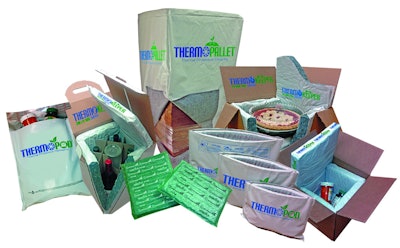 ThermoPod® offers free size customization of super insulated ThermoPod envelopes and ThermoKeeper™ thermal protective packaging liners specifically designed for temperature control and protection of mail-order shipments of various foods, wine, pet medications, pharmaceuticals, cosmetics, and diagnostic testing kits.
The liners can be custom sized to fit snuggly inside existing shipping containers, saving space on pallets and shelves, and minimizing shipping costs.

The patented cotton-enhanced insulating materials used in all ThermoPod products offer soft cushioning thermal protection. The insulating cotton padding is produced using a selected blend of recycled cotton fibers that are super-absorbent for the containment of spills and contain a time-sensitive, EPA-approved antimicrobial additive for cross-contamination prevention.
The cotton materials are completely aerobic and anaerobically biodegradable in less than one year when in the presence of active microorganisms as verified by ASTM D-6400 biodisintegration testing.

The nonwoven cotton insulation fibers in the packaging liners are considered compostable and comply with current F.T.C's 2013 Green guidelines. ThermoPod's protective poly film contains a special additive that is designed to attract microbes and thus stimulate biodegradation to occur in greater than a year.

This combination provides the thermal protection necessary for extended controlled-temperature time frames.

ThermoPods patented "super" insulated ThermoPod envelopes and ThermoKeeper box liners are available in variable thicknesses of ultra-insulating padding.
Companies in this article