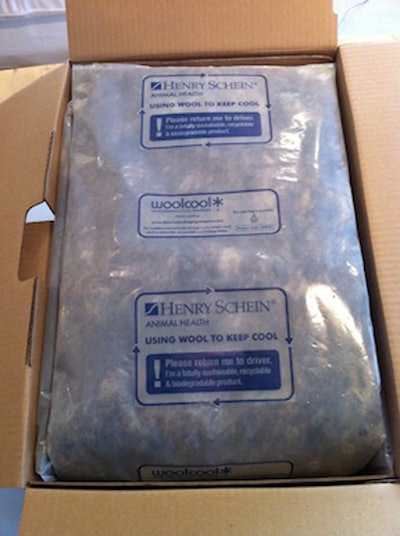 Henry Schein Animal Health, a veterinary products and services wholesaler in Dumfries, Scotland, uses a 140,000 sq-ft distribution facility that houses more than 15,000 items of stock and a state-of-the-art Knapp picking and packing line. Part of the Henry Schein group, the animal healthcare distribution company now employs Woolcool® insulated packaging for temperature-sensitive pharmaceuticals from
The Wool Packaging Co.
The Woolcool material, marketed as a sustainable and effective alternative to packaging such as polystyrene, was unveiled at the World Small Animal Veterinary Association Congress (WSAVA) in Birmingham.
Henry Schein plans to use Woolcool predominantly for temperature-sensitive medical products, including vaccines, as the packaging has been validated to maintain internal temperatures between 2°C and 8°C for more than 72 hr.
The cushioning fleece also protects against breakages in transit. Woolcool is particularly important for delivering these products to the most remote and rural veterinary practices in the U.K. In closely controlled situations this may even allow for dispatching orders on Fridays, even if they will not be received until Monday.
Peter Dodd, operations director of Henry Schein Animal Health in the U.K., learned of Woolcool insulated packaging through an interview with designer and CEO Angela Morris on BBC Radio 2's Drivetime Innovation feature. The Wool Packaging Company said it was awarded a U.K. government-funded research grant to develop the packaging for temperature-sensitive pharmaceuticals.
Dodd instigated independent temperature-validation trials on behalf of Henry Schein Animal Health and the results proved Woolcool to be a sustainable packaging solution, providing benefits such as performance, sustainability, biodegradability, recyclability or reusable components.
Henry Schein distributes animal health products and services, serving veterinary customers through its operations in Austria, the Czech Republic, France, Germany, Portugal, Spain, Switzerland, and the U.K. Henry Schein's global Animal Health business also includes operations in the U.S., Australia, and New Zealand. Henry Schein Animal Health U.K. (formerly Dunlops) was founded in 1921. Henry Schein Animal Health serves the animal health profession throughout the U.K. with pharmaceuticals, equipment, pet food, and veterinary disposables. Henry Schein Animal Health has been a subsidiary of Henry Schein since 2007.
The Wool Packaging Co. designs, manufactures, and supplies high performance, environmentally friendly insulated packaging products and packaging for temperature-sensitive goods, from food to pharmaceuticals. The company says that as a result of an "enthusiastic reception to the introduction of Woolcool in the U.K., Henry Schein [has] placed further orders to meet the growing demand for this sustainable insulated packaging product."
Companies in this article