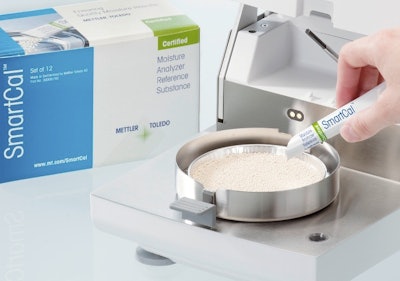 A method for calibrating moisture analyzers, SmartCal is a new quality control check, based on a certified and traceable reference substance, which verifies instrument performance with a simple 10-minute moisture measurement. SmartCal fulfills the quality management system requirements of the food sector (BRC, IFS), the pharmaceutical industry (GMP, USP ), and also meets ISO 9001.

Each single-use sachet contains 8.5 grams of the reference substance, which has a defined moisture content. The user simply places the contents of the sachet in the moisture analyzer and presses "Start."

A pass/fail notification confirms if the result is within the specified SmartCal control limits, and the instrument is ready for use. SmartCal is an alternative to the traditional method for testing moisture analyzers that involves using a weight for balance calibration and performing temperature calibration with a thermometer.

Regular moisture analyzer monitoring with SmartCal ensures that instrument performance is in accordance with specifications. Maintaining a control chart of test results provides audit-ready documentation on instrument performance, avoiding auditing issues.

Certified SmartCal (cSmartCal) is supplied with a Certificate of Analysis issued by the independent German Federal Institute of Materials Research and Testing in Berlin. Instrument specifications, recommended test frequencies, testing SOPs, and control limits are all included in the SmartCal package.
Companies in this article