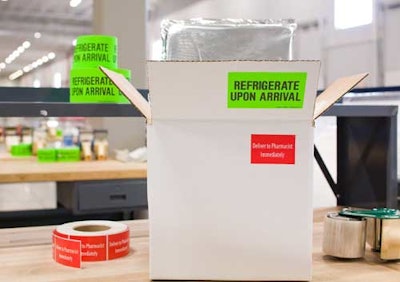 Healthcare Packaging (HCP): One of the challenges for a manufacturer is to be able to monitor temperatures in distribution. How can a manufacturer know its product remained within the appropriate temperature range from the point of manufacture until its arrival at the hospital/clinic, etc?
Dan Gagnon (DG),
UPS
: The key here is visibility, and this means visibility beyond a manufacturer's own company walls. It's critical for healthcare manufacturers to know the temperature-sensitive capabilities of their distribution partners, especially when it comes to visibility solutions, in order to have a true picture of what happens to their temperature-sensitive products during the distribution process.
There are technology solutions today that not only allow manufacturers to "see" where their temperature-sensitive products are at all times during their supply chain journey, but also allow them to take corrective action, such as refrigeration or dry ice replenishment, when needed to protect high-value products.
Having visibility of temperature-sensitive products in the supply chain also means the ability to notify customers when products are delayed. An example of a visibility solution is UPS Flex Global View, which allows companies to track the status of their high-value, temperature-sensitive freight shipments. In addition to providing location visibility, the solution includes temperature data loggers, which are used to collect temperature and humidity data from dock to door. This information can be uploaded and is instantly available via a secure web connection to provide the manufacturer with information vital for determining whether inventory can be received or must be quarantined.
UPS also has a 24/7 proactive monitoring service called UPS Proactive ResponseSM, which is specially designed for monitoring these types of high-value and patient-critical products. The solution includes shipment intervention and recovery services as well as dry ice replenishment and refrigeration intervention at select air facilities.
HCP: During distribution, how can a manufacturer be assured that product temperatures don't vary significantly from a point near the truck's doors to inside individual cases on a pallet, or at various other locations within a truck?
DG: One way is through temperature profile studies. UPS offers shippers a service that provides a customized ambient temperature profile for their specific shipping mode, origins, and destinations. UPS will ship
Sensitech
TempTale® temperature monitors to UPS Stores that are aligned with customers' shipping ZIP codes. The TempTale monitors are returned to a central site and uploaded to a central repository. The data is then compiled into a report that can be used by quality assurance groups in package design and testing.
Another important consideration for keeping product temperatures in the correct range is to reduce the number of hand-offs during the distribution process. When manufacturers work with a third-party distribution partner that has the scope and network to handle the storage and distribution of temperature-sensitive products end to end, or from the manufacturer to the end customer, they gain assurance that one party is responsible for the product's entire journey.
Temperature data loggers and round-the-clock monitoring solutions, such as UPS's Proactive Response, alert manufacturers when products are in danger of being outside of their temperature range are another critical factor.
A fourth important area is contingency planning. It's critical to work with a distribution partner that has transportation contingency plans ranging from alternate modes of transportation, to temporary cold storage, to escalation plans to provide what we at UPS call 'no excuses service'.
HCP: What are the different considerations for maintaining product temperatures by land, air, or sea distribution?
DG: The ability to maintain product temperatures begins with a solid understanding of transportation system temperatures, the time in transit for getting products to their destination, and packaging solutions. Understanding these three factors is critical in developing a temperature-sensitive logistics solution that is safe and will minimize excursions. Although longer time-in-transit modes are often less expensive, more coolant and energy is required to hold temperatures for a longer period of time. More coolant and energy creates a heavier shipment. Faster transportation modes, although more expensive, frequently require less coolant and energy. There is a direct, inverse relationship between transportation modes, time in transit, and the packaging material investment.
The mode of transportation and the transportation system itself must also be considered. An aircraft flying at 35,000 ft will experience -50C external temperatures, which can put at risk any cargo that has been loaded near cargo doors. Ground transit can also pose unique challenges as trucks moving over high mountain ranges may experience different atmospheric pressures than those tested in a packaging lab. To plan for these possible scenarios, shippers must know the environment of their carriers/distributor, consider their customers' service requirements, and understand their products' stability data to design a solution for any mode.
HCP: What are the key differences in cold chain shipments for medical devices vs pharmaceuticals vs biologics?
DG: Most of the temperature-sensitive logistics regulatory guidance created around the world directly focuses on pharmaceutical distribution, thus much of the focus has been on this area. It's important to understand the unique requirements for every shipment to ensure that products are protected in the healthcare supply chain. Other types of healthcare products are coming under more scrutiny as the industry continues to evolve to meet changing customer demands. For example, increasing attention over the last few years has been placed on diagnostic specimens, which is an especially critical area for clinical trials. Distributors of healthcare products in general must understand the impact temperature can have on the efficacy or integrity of all product types and strive to meet any and all label requirements for shipping.
HCP: What are the important regulatory issues to consider in warehousing and distribution?
DG: First, the storage of temperature-sensitive products is critical, because products that aren't stored correctly will never leave the warehouse, leading to costly product loss. Manufacturers should ensure that their facilities and/or the facilities of the third-party logistics providers they work with are PDMA- and cGMP-compliant and offer temperature- and humidity-controlled environments that meet regulatory requirements. There are also the many regulatory considerations for products that must travel cross-border. Manufacturers should look for Customs-bonded carriers who can ensure that they meet Customs requirements and avoid delays at the borders.
When it comes to distribution, there have been an overwhelming number of publications and guidance documents surfacing around the world addressing best practices, standards, and regulations for temperature-sensitive distribution. The FDA, WHO, Canada Health, PDA, USP, and many other organizations have created guidance related to the safe distribution of temperature-sensitive products. The issues shippers are looking for the most help with revolve around gaining a clear understanding of the temperatures of the transportation environment. Good ambient profile studies and thematic mapping of aircraft and trailers become important in package design and testing. These data sets and the events or processes associated with the extremes support the shipper's need to create a cost-effective packaging solution that ensures product safety and efficacy.
HCP: Please describe the UPS "Pain in the (Supply) Chain" survey and identify its key findings this year? What trends are you seeing?
DG: This UPS survey is an annual study to identify the top issues and pain points in the healthcare supply chain as well as healthcare business and supply chain trends for the years ahead. Conducted by Harris Interactive on behalf of UPS, the survey targets supply chain decision makers in the pharmaceutical, biotech, and medical device industries. The 2009 UPS survey was conducted in two phases: the first phase was a blind, in-depth phone survey of more than 300 primarily small- to mid-sized healthcare companies; the second phase included a targeted online survey of large healthcare companies with annual revenues of at least $1billion. Key findings from 2009 were in the areas of: regulatory pressures and landscape; serialization requirements; go-to-market strategies; outsourcing trends; and supply chain costs and spending plans.
There were several important findings from 2009, but perhaps most significant is that while economic conditions and trends like increasing industry regulations have had a substantial impact on small to mid-sized companies' business and supply chain strategies versus last year, large healthcare companies are moving forward with--and in some cases, expanding--plans to capture new market opportunities. We are seeing more and more large healthcare companies looking to adopt new distribution models and make changes to go direct to physicians, patients and hospitals, for example, which represents a major shift in strategy to meet evolving customer demands. We are also seeing a clear industry trend in which large healthcare companies are increasingly embracing outsourcing to focus on areas like R&D.
Companies in this article