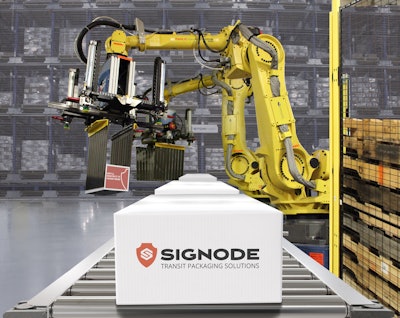 Connected with live-stream video feeds, Signode will have booths in both the South Hall and North Hall. Attendees will get a true feel for the packaging journey and the organization's ongoing partnership with its global customers through Signode's highlighted automation and packaging technologies.
"The demand for increased automation is derived from multiple supply chain trends and challenges, but what it comes down to is our customers can't afford for their product to be damaged before it gets to their customers," said Mike Stein, Vice President, Marketing and Product Management, Signode. "Alongside a robust service team to help customers maintain and optimize their investment, Signode is able to provide a complete automation solution to maximize productivity, throughput and uptime across industries."
Among the solutions to be featured in the South Hall include, the PackPoint automated packaging system, LDX RTB 4.0 semi-automatic random case sealer, Multi FleX1 electric hooder, and Signode's Simplimatic® Pallet Transfer Autonomous Mobile Robot (AMR) (shown).
The North Hall will feature Signode's end-of-line automation solutions for palletizing and storing products. Featured solutions include Signode's Simplimatic® Essential compact and mixed palletizers, the newly enhanced cart-based StorFast® ASRS system, and Signode's Simplimatic® Universal Material Transfer Autonomous Mobile Robot.
Companies in this article