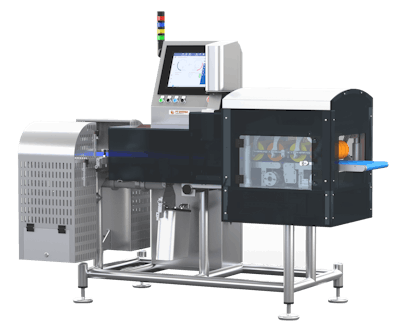 Antares Vision Group made a series of enhancements to its state-of-the-art Global Tracking System (GTS) software. Among other upgrades, the new version features tightened data integrity protection (DIP), and more easily integrates with off-brand Levels 1 and 2 serialization equipment – an agnosticism providing seamless aggregation.
Antares Vision Group's GTS software receives and stores data, statistics, serialized codes, and audit trails. Capable of operating both on-premises and through the cloud, the system manages product recipes, associates printing layouts and assimilates camera formats based on specific products. It can store multiple recipes per production line – a sizable advantage for companies serving countries with disparate track & trace regulations.
Also on display will be a model from AVG's All-in-One equipment portfolio for food and beverage applications (shown). The series incorporates multiple inspection controls into single machines, maximizing production space and manpower efficiencies while offering exemplary quality assurance. The combo units draw upon technology from AVG subsidiary FT System, as well as inspection controls specialist Pen-Tec.
On October 25 at 2:00 PM on Innovation Stage 3 (N-4585), Monica Coffano, Development Manager for Antares Vision Group, will present Using Supply Chain Traceability to Combat Cosmetics Counterfeiting. With counterfeit products costing the cosmetics industry over $5 billion each year, attendees can learn how supply chain traceability – an innovation that originated in the pharma industry – can protect manufacturers, brand owners, and consumers through unique digital identities that track products from raw materials to end-users.
Coffano will explore how unique identity codes not only fight counterfeiting but also empower brands through elevated transparency and efficiencies. Benefits include precise recall oversight, exacting product authentication, heightened consumer engagement and – per the industry's biggest trend – improved sustainability management of ingredients, production practices and packaging.
Other AVG Solutions that will be exhibited include:
• The new Print + Check 3TS is a carton serialization station integrating labeling and tamper evidence functionalities, and providing multi-side data printing and verification..
• Ideal for beverage applications, the IE4000 performs in-line quality control to ensure the proper placement and orientation of labels, including for the high-leverage wine and spirits sectors.
Companies in this article