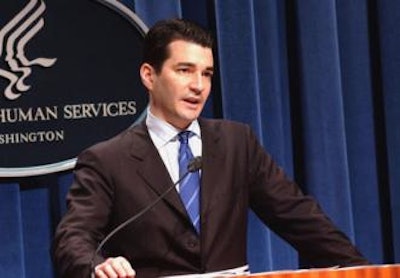 The FDA just announced its largest coordinated initiative against violative sales. "This is the largest single enforcement action in agency history. It's aimed at retail and online sales of e-cigarettes to minors," explains Commissioner Scott Gottlieb, M.D.
Electronic nicotine delivery system (ENDS) products have only been recently brought under FDA's regulatory jurisdiction, and in the release, Gottlieb says the agency is committed to developing a regulatory framework for how to properly evaluate these products.
FDA launched its Youth Tobacco Prevention Plan earlier in 2018 which focuses on three main strategies:
Preventing youth access to tobacco products.

Curbing the marketing of tobacco products aimed at youth.

Educating teens about the dangers of using any tobacco products.
The agency has already targeted "misleadingly labeled or advertised" e-liquids that resemble kid-friendly foods like juice boxes, candy and cookies. "Since then, the manufacturers, distributors, and retailers that were warned by the FDA have stopped selling products with the offending labeling and advertising," Gottlieb says. Last week "the FDA issued 12 warning letters to other companies that continue to advertise and sell the violative products. This includes several companies that are also cited by the FDA for illegally selling the products to kids."
Five e-cigarette manufacturers received warning letters, whose products were sold to kids during their recent enforcement blitz: JUUL, Vuse, MarkTen, blu e-cigs, and Logic.
The FDA has given the companies 60 days to offer "robust plans" for how to stop minors from using the products or more serious enforcement may take place. "This may require these brands to revise their sales and marketing practices, including online sales; to stop distributing their products to retailers who sell to kids; and to remove some or all of their flavored e-cig products from the market until they receive premarket authorization and otherwise meet applicable requirements," says Gottlieb.
FDA is putting manufacturer's internet storefronts and distribution practices under scrutiny. Explains Gottlieb, "We'll look at whether internet sites are being used to make straw purchases with the intent for redistribution to minors. If young adults go online and buy 100 units of a product to sell to teens, that activity ought to be easy for a product manufacturer to identify, and FDA will consider what steps we can take in these circumstances."