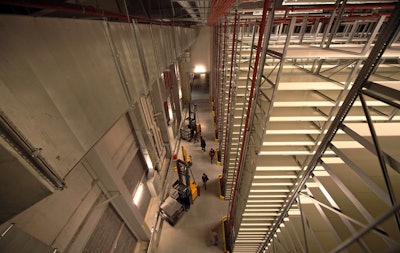 As e-commerce pushes retailers and shippers to shorten their delivery windows, many are turning to strategies such as multi-story warehouses, pick-up lockers and infill service centers to get deeper into the dense population centers they are serving.
In its new global research report, "Last Mile/City Logistics," CBRE Group examines the market forces compelling retailers to overhaul their supply chains to penetrate urban markets as well has their strategies for doing so. CBRE Group is a global commercial real estate services and investment firm.
A primary factor is that millennials, many of whom live in downtowns and central business districts, prefer their online purchases be delivered to their residences rather than to their office or for in-store pickup, according to the survey. In the Americas, 76% of respondents prefer home delivery, more so than their peers in Europe and the Asia Pacific region.
"The drive to deliver more products faster to consumers in urban markets is generating tremendous innovation in that last leg of delivery to customers, which we call the last mile," saysDavid Egan, CBRE's Head of Industrial & Logistics Research in the Americas. "Industrial users are enlisting a resourceful combination of facilities, technologies and services to tackle this challenge, but well-located real estate remains a critical part of that equation."
Across the globe, the most common methods used to address this challenge are small, infill service centers, which hold and distribute inventory within just a few miles of the customer; multi-story warehouses in markets with scarce available land; and pick-up lockers in dense areas where the service is convenient.
Some retailers are using their stores as a ready network of small distribution centers already deployed across many markets. Others are using technology such as real-time, driver-tracking systems as well as crowd-sourcing tools that allow them to operate large pools of on-demand drivers.
Such strategies are likely to come into more demand going forward. According to CBRE research, U.S. millennials do more than a third of their non-food shopping online, and that figure is expected to exceed 40% by 2019. CBRE says the U.S. is second only to the U.K. in that regard.
In Europe, the restructuring of supply chains has led to a growing need for efficiency, resulting in a smaller warehouse network with larger but fewer facilities.
Vertical logistics facilities are already known in East-Asian markets, where densely populated cities and lack of available land make them a viable solution. As e-commerce grows and continues to impact the market, the use of vertically structured warehouses will become a virtually inevitable factor for the growth of city logistics in dense European hubs and heavily populated cities in the U.S.