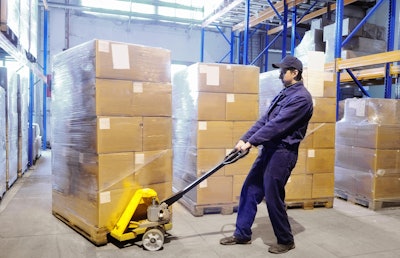 Whether you package pharmaceuticals, food, beverages, consumer or industrial products, you're likely reliant on pallets to move your goods through the supply chain.
ReportsnReports' "Global Pallet Market 2016-2020," points out a key growth driver is the increase in manufacturing output as revival of the manufacturing sector and projected economic expansion worldwide will boost demand in the materials transport segment.
The report notes, "MAPI (Manufacturers Alliance for Productivity and Innovation) Foundation anticipates manufacturing production to outpace GDP during 2015-2016. The output in the manufacturing sector has increased over the last three years after a fall in 2008-2009. The manufacturing production will grow at 3.6% in 2016 and 2017. The uptick in manufacturing and resultant need to transport materials, including exports, will drive the demand for pallets."
The 64-page global pallet report, which analyzes five major companies and provides 28 data exhibits, says analysts forecast the global pallet market to increase at a Compound Annual Growth Rate of 4.90% during the 2016-2020 timeframe.
The recent increase in manufacturing output is the primary driving force behind the growth in pallet market, says the report. It says the Americas are expected to dominate the global pallet market in 2020, with a market share of almost 45%.
The wooden pallets segment accounted for an estimated 91% share of the market in 2015 to become the major contributor in the global pallet market. Wood pallets, say the report, "are strong, durable, inexpensive, highly customizable, and are available in a variety of sizes and strengths. This segment of the market is thriving as the majority of the consumers prefer wood pallets owing to their versatile and cost-effective nature. The majority share of the demand for wood pallets comes from the food and beverage and consumer goods industries."