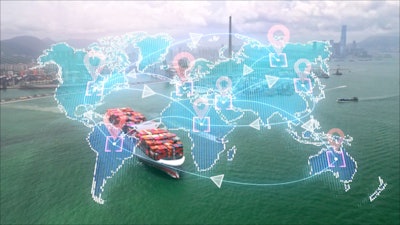 Getty Images
It's 2023, and packaging and processing OEMs are still saddled with supply chain problems, which are primarily tied to a shortage of electronic devices, including motors and controllers. To date, the only solution has been to overstock the shelves when components are available—and oftentimes the product is only available on eBay, for a much higher price tag.
For machine builders trying to fulfill customer orders, it's been a frustrating experience that has required resourceful out-of-the-box actions.
"Our work-around has been brute force—pre-ordering items that are standard and forecasted for use, as well as getting engineering to find alternative suppliers, which is painful and tedious, but we have made substitutions," says Brian Ormanic, senior applications engineer at Pearson Packaging Systems. "There's been a lot of communication and time investment from our supply chain department."
Stacy Johnson, vice president of business development for Hoosier Feeder Company, has had a similar experience. "We are still seeing supply chain issues primarily tied to motors, controls, and sensors. It's a unique situation, because often, in the past, customers would specify items like controls. But now, they're having to choose between getting the accessories they want with a longer lead time, or letting us use the accessories we have available on the shelf to build their product."
OEMs aren't the only ones struggling right now. Their CPG customers, too, are trying to balance customer needs with product and material availability.
---
---
"Different components are coming from different vendors, and one of the most important components to manage for is lead times," says Diego Pantoja-Navajas, vice president of AWS Supply Chain at Amazon Web Service, Inc. (AWS). "Incorrect lead times can lead to disastrous manufacturing outcomes."
But, it's hard to manage lead times because the manufacturing supply chain is so complex. There are changing demands for product, varying levels of lead times for supplies, the balancing of production capacity, and logistical bottlenecks. Throw a global pandemic on top of that coupled with a raw material shortage and even a ship wedged across the Suez Canal—among other things—and it's a real business nightmare.
"It's a big Rubik's cube," says Adrian Wood, director of strategy and marketing for Dassault Systèmes' Delmia brand. "Companies are trying to get the best forecast of supply and demand, and crunch that into a strategic plan. It's an optimization problem that companies today normally solve through Excel and manual processes."
But there's an evolution taking place as companies wake up to the fact that they must move off of manual processes and start automating aspects of their supply chain. That doesn't mean throwing a robot into the mix, rather, it requires the creation of a virtual replica of what's going on as a way to predict outcomes that can be preemptively acted upon.
And the simulation software providers are responding.
For example, Dassault Systemes is known for its ability to create digital models that virtually simulate products, processes, and factory operations via its 3DExperience platform. It has traditionally been used to test out an airplane or automotive design, or experiment with layout and process flows in a manufacturing facility. With the company's acquisition of Quintiq in 2014, those simulation capabilities were extended to supply chain planning and optimization.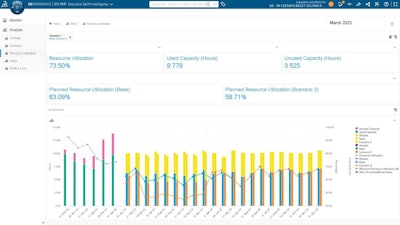 "The supply chain deserves to have a digital twin of its own," Wood says. "It's a model of the capabilities and constraints of an organization that allows you to play with 'what if' [scenarios].
What if demand suddenly skyrockets? What if demand falls off a cliff? What if the supplier goes out of business? What if we open a new distribution center or change the supply chain layout? When the pandemic came in, I don't think there were many dramatically new problems, but they were all exaggerated. And the magnitude of problems have forced [manufacturers] to get off the manual processes and to design a virtual twin model to prepare for future disruption and have the agility to react."
Supply chain opportunity
The supply chain is quickly becoming a strategic priority. According to the IDC white paper "A Modern, Connected Cloud Environment Optimizes Supply Chain Collaboration—A North American Perspective," published in June of 2020, "the supply chain has traditionally been thought of as a support organization that works in the background to ensure that products are planned, made, and fulfilled to customers and consumers. That is changing. The supply chain is now perceived by manufacturers and retailers as a strategic tool for business performance and growth—and is moving from a cost center to an opportunity center."
But it's not so easy to reengineer that monolithic ERP system that has been coordinating supply chain schedules. Which is why, according to IDC, cloud and Software-as-a-Service (SaaS) applications that can be layered over the manufacturing and enterprise systems are rapidly becoming the default choice for the supply chain.
Case in point: In November, Amazon Web Services (AWS) rolled out its AWS Supply Chain application, which is based on nearly 30 years of Amazon.com's own logistics network experience.
"For many years, our customers have told us that they are running complex global networks of suppliers, manufacturers, shippers, and ports, and trying to meet the needs of connecting all of those different entities within the supply chain. That's not easy to do," explains Pantoja-Navajas, as all of the different entities of the supply chain are using different systems and technologies. "With all of the data scattered across a vast network of systems, we started to appreciate that data is one of the most important components [needed] to run an effective supply chain. And we want to make sure we can help by bringing it all into one system to harmonize the data and make it available to customers without the need to migrate or move from one system to another."
Layering on machine learning
AWS Supply Chain is a cloud-based system that uses electronic data interchange (EDI) feeds to pull data from a variety of sources (including ERP and supply chain management systems) into a data lake. It then unifies and contextualizes the data by applying machine learning (ML) and natural language processing (NLP)—based on Amazon's own proprietary algorithm—to understand and learn from the data. According to AWS, much of the industry today spends significant time and third party consulting resources to get various platforms to work together, but this app removes those heavy deployment costs without overhauling existing IT.
In addition, there is demand planning and a collaboration tool built-in to the platform. The collaborative communication within the app is also a core capability, Pantoja-Navajas says, because it provides a way to quickly respond to supply chain risks as supply chain leaders have a shared context and reference for determining next steps.
Early customers using AWS Supply Chain, like Amazon's subsidiary, Whole Foods Market, are already experiencing benefits.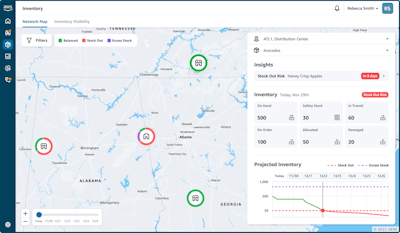 Whole Foods has more than 500 stores across the U.S., including some in the U.K. and Canada, with 11 distribution centers serving the stores. The perishable side of the business is complex due in part to the locally sourced products.
"We have a strong and efficient operation, but are always looking for improvement," says Leandro Balbinot, CTO of Whole Foods Market, who was speaking at the AWS re:Invent 2022 event in November. "Supply chain systems are good for transactions day to day, but are hard to innovate."
Balbinot noted that AWS Supply Chain's natural language processing has been instrumental in the company's ability to easily integrate complex data and, more importantly, comprehend it.
"It's not about having the data, it is about having the data in a way that makes sense. That is what you can get with the NLP capabilities the platform offers," Balbinot says, noting that it provides a way to quickly see current and future inventory situations. "We started a proof of concept and in a few days got the data to provide on-hand inventory positions to the team, as well as future predictions about risks for all the distribution centers."
This "future aware" aspect of the AWS algorithm provides options to rebalance inventory for the best possible outcome, taking into consideration outside conditions, like weather patterns, for example. "At the end of the day, we are simulating scenarios," explains Pantoja-Navajas. "The algorithms will provide different outcomes based on the data it has. You can run and re-run scenarios by adding more variables into the system, so we are simulating multiple scenarios for [the customer] to select which one best fits their needs."
And a graphical component—a map—provides visibility of where inventory is in stock, or has an excess or out-of-stock risk, providing a mechanism to drill down into the product levels.
"The map is what supply chain managers love," says Balbinot. "It's good to have an easy way to understand what the inventory looks like for every distribution center and drill down to see what actions we have to take to mitigate the risk."
Pantoja-Navajas adds that the AWS application offers a holistic view of different systems, which is an impactful approach to visibility across the supply chain. "With the unified view of the supply chain data, and using ML to power the insights of data, you are able to see what is important. You can have data visibility, but if don't have insights into that data to what will happen next, the only thing you are doing is telling me the news that happened yesterday, and you are not predicting how the supply chain will be affected by a natural event like a hurricane or snowstorm or other disruptions."
The Power Map
SCM Globe offers its own supply chain modeling and map-based simulation tool that has been used for military logistics, humanitarian supply chains, business planning, and even for training students. The company, started in 2012 by Michael Hugos, former CIO for an $8 billion distribution company and author of several books, including Essentials of Supply Chain Management, aims to make the supply chain more understandable through real world visualization and intelligence.
Hugos explains that the supply chain is made up of four entities: products, facilities, vehicles, and delivery routes. Basically, it is a massive multiplayer situation comprised of people, factories, raw materials, and transportation. With that in mind, he developed an easy to understand game-like interface that keeps all of the complicated mathematical computations under the hood.
Data is imported from ERP and other applications to automatically create supply chain models. The cloud-based app sits on top of Google Maps and leverages a satellite tool to zoom in and find buildings, ports, and infrastructure, thereby merging real-time mapping and 3D data displays of the landscape.
"If I know that a factory is 150 miles away from a port, and that port will ship products to four other places, and I can see facilities and vehicles and routes that connect the facilities, I can do a lot of calculations automatically," Hugos says, explaining that those calculations govern how the four entities interact, adjusting to changing circumstances and applying simulation to optimize the data. "We try to create useful models everyone can see and understand, and within that context can talk about specific issues."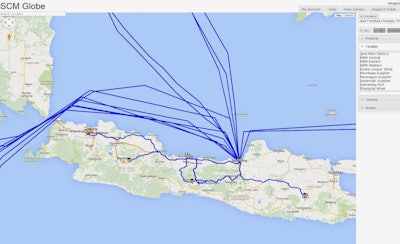 In one business example, SCM Globe worked with a large furniture manufacturer in Europe that wanted to redesign its supply chain to accommodate its biggest business unit in Indonesia. The company put together a supply chain task force composed of people from different geographical areas and responsibilities, including operations, purchasing, sales, and finance. However, different groups within the company were fixated on different parts of the supply chain, emphasizing their own interests without understanding the overall effects of different actions. For example, the finance folks were focused on how to increase productivity in factories. Operations argued for improved movement of products between the factory and the port. Purchasing people wanted to know if they should line up new suppliers or shippers. And sales managers just wanted to do whatever it took to increase production to support rising worldwide sales.
To get everyone on the same page, they need to see the big picture and how changes in one part of the supply chain can affect other parts. And the best way to do that is to show everyone an overview of the supply chain via a global map with the ability to zoom down into it for more detail. For example, the team could identify a particular shipping port on Google Maps and then switch to satellite view to see the actual facility. Then they were able to run a simulation to answer questions, such as, how the existing supply chain would support a 40% sales increase.
SCM Globe is a visual tool that not only simulates what would happen if a shipping port is congested, for example, but it also unites all of the different departments in the organization.
"You need to make sure everyone can see the big picture in an understandable format with enough detail to make strategic decisions, but not so much detail that your splitting hairs," Hugos says.
ROI in the Supply Chain
All of these supply chain simulation tools—Delmia Quintek, AWS Supply Chain, and SMC Globe—are designed to work more effectively the more data points provided, enabling better decisions. But the real value is the ability to roll with the punches, regardless of what happens, in order to deliver products.
"Agility and visibility are the two foundation components that companies need to develop as part of their operational processes," says Dassault's Wood. "And that adds a host of potential benefits in terms of getting new products to market sooner at lowering cost with higher quality."
And the next step, Wood says, is to link manufacturing and the supply chain. The root cause of disruption is not always because a ship got stuck, it is often because there was a problem with the product design or a problem in manufacturing.
As such, the digital twin of the supply chain can be made even better by connecting it to the digital twin of the product. So, if you are adding a new component to a product, you can go to the supply chain model and ask it if you can actually source that component. The simulation may say, 'no,' but offer an alternative supplier with a similar component that has a longer lead time. Then, you can start building that into the design of the product.
The point: "Don't think about the supply chain in isolation," Wood says. "Think broader of its impact across the organization."
Companies in this article