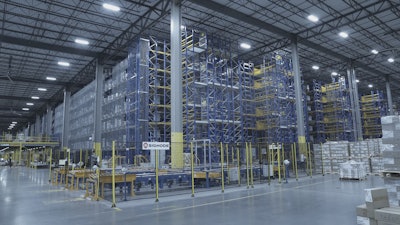 India-based Aurobindo Pharma manufactures and distributes millions of generic pharmaceuticals to more than 150 countries, overseeing a complex, global operation where safety, security, and speed are paramount.
Seeking to manage its expanding U.S. footprint, the company broke ground in 2016 on a new state-of-the-art 567,000 sq. ft. distribution center in East Windsor, NJ. Located about 50 miles outside of New York City, the facility is FDA-approved, Current Good Manufacturing Practices-compliant (cGMP), and powered by 39,000 rooftop solar panels.
It serves as the exclusive hub for Aurobindo Pharma USA, the company's vertically integrated U.S. distribution entity. The facility currently ships more than 200 million units annually across 200 product categories to hospitals, doctor's offices, commercial pharmacies, and retail outlets nationwide. With annual growth routinely surpassing double digits per year, even this advanced operation required further automation investments to meet current and future demands.
One of the company's manufacturing sites in India had already enjoyed great success with StorFast ASRS, a system engineered by Signode, a global provider of packaging automation. The company decided to invest in the system for its New Jersey operation in late 2017, with further build-out in 2020. "We were able to work collaboratively with the global team at Signode to develop and implement a strategy that had the ability to address our ambitious growth objectives," said James Downey, senior director of distribution, Aurobindo Pharma USA.
Continue to the full article here: Aurobindo Pharma USA Increases Distribution Throughput and Performance with New Automated Warehouse System