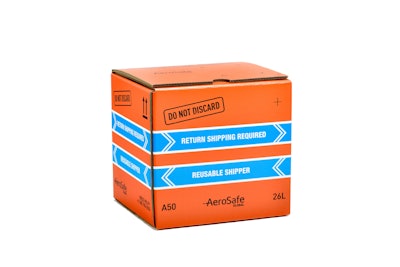 Weather, mechanical failure and human error can cause significant delays in the transit of early clinical trial samples, which can make them unusable. Keeping these valuable samples stable from storage through delivery is essential for Celerion, a Lincoln, NE-based provider of early-stage drug development and applied translational medicine.
The company's name, derived from the Latin word celeritas, connotes swiftness and speed. These are attributes that Celerion regards as its founding principle—helping its pharmaceutical manufacturer clients promptly get their products to market. These samples help provide knowledge of drug action and effect in humans to companies to support drug development decisions and the clinical pharmacology labeling of new medicines.
To help Celerion distribute these typically temperature-sensitive sample shipments, the company is working with AeroSafe Global, supplier of turnkey cold chain services for the biopharmaceutical industry.
"We first started conversations with AeroSafe in May 2016," recalls Dennis Jacobson, Celerion's Global Manager of Operational Efficiencies and Supply Chain. "We chose to do a limited trial of the system to ensure AeroSafe containers would meet our needs. In early 2017, after a successful trial, we signed a two-year contract to continue with the service."
Celerion initially sought a supplier for temperature-sensitive shippers that could help it plan for shipping delay exceptions. AeroSafe containers not only met that need, but also worked with Celerion's couriers' tracking procedures. "What we saw as unique [with the AeroSafe products] was the combination of prequalification for each individual container, lower cost, availability of a variety of standard and custom sizes," says Jacobson.
A matter of trust
He says samples collected during the early phase of pharmaceutical trials represent "one of our most important products of clinical research. At any point in time, we're working with samples from a number of pharmaceutical companies. These samples are a key component to the success of their clinical trial. Once collected, these samples are sent to our clients and to bioanalytical laboratories for testing. It is critical that the storage conditions during the shipping of these samples are maintained in order to retain viability for testing."
Based on 10-plus years of experience, Jacobson says, "Regardless of which courier is used to transport samples, problems can occur that cause delays in receiving the samples. Using traditional 'styrofoam' [expanded polystyrene] shippers, sample viability is only maintained for 72 hours. We estimate sample shipments delayed more than 72 hours only occur once in every 300 shipments. While these delays are not common, they can be extremely damaging to the integrity of the clinical trial—and importantly—to the trust we have developed with our clients."
He says that if a sample is no longer viable when received, "it could mean that the study would need to be repeated; potentially costing millions of dollars. Since we started using the AeroSafe containers we have had three shipments that were delayed 72 hours or longer, [although] none of these samples had lost viability. The AeroSafe container kept the samples at the temperature required for up to three times longer than the EPS. We were able to replace the EPS with products that help provide for recycling and reuse."
Frozen samples next up
Today, Celerion uses 30-L and 60-L AeroSafe containers with dry ice media. It is also considering adding both a 12-L and custom size. Jacobson adds, "We currently are using the AeroSafe containers for domestic shipments though our preferred courier. However, we are planning to expand this to all frozen samples though all of our couriers, both domestic and international."
Asked to quantify the benefits of its experience to date with the containers, Jacobson says, "Although it is difficult to calculate, we do know that our AeroSafe containers have contributed to the trust and goodwill that our clients have for Celerion. The AeroSafe containers maintained the stability of the samples, which preserved the samples for the clinical trials. AeroSafe has some excellent people who have helped us implement and problem-solve. As a result, we have been very happy with both their products and the services."
Companies in this article