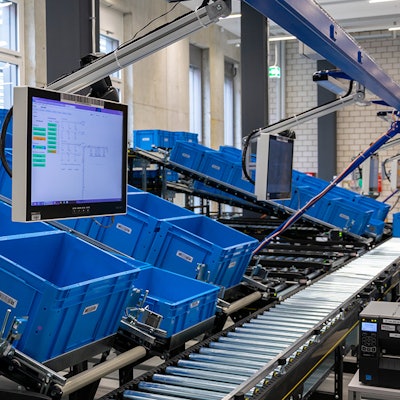 Providing fundamental medical care and cutting-edge medicine, the University Hospital Zurich is one of Switzerland's largest, encompassing 44 clinics and institutes that care for patients across all disciplines. Every year, around 41,000 inpatient treatments are administered at the UHZ. The clinic association also registers more than 500,000 outpatient visitors each year.
Recently, Swiss system integrator Ansorix planned, designed and implemented an automated small parts warehouse for UHZ that uses zero-pressure accumulation roller conveyors based on Interroll's Modular Conveyor Platform (MCP).
The small parts warehouse serves as the "beating heart" of the new logistics and service center commissioned by the University Hospital Zurich (UHZ) in Schlieren, near Zurich. It supplies the UHZ with goods and logistics services.
To ensure the hospital was ready to face future demands, it needed a new storage system tailored to the hospital's requirements that could also help reduce operating costs. The new logistics infrastructure also had to be flexible enough to expand with minimum disruption and expense.
Ansorix opted for a storage technology solution from Kaufmann Systems AG, a company based in Hitzkirch, near Lucerne, Switzerland. The skills profiles of the two companies, both of which are partners of the Interroll Group's global Rolling On Interroll program, were a match.
"As with previous projects, the collaboration with Kaufmann Systems ran completely smoothly. In projects such as this, it is essential to have experienced partners on whom you can fully depend. And with Kaufmann Systems, that is guaranteed," explains Vera de Vries, Sales and Marketing Manager at Ansorix Systems AG.
The new warehouse has a capacity of 3,024 trays/storage and retrieval machine. Its MCP with integrated 24V RollerDrive means that trays of varying sizes can be conveyed without any pressure accumulating. The trays are taken from the freestanding storage racks and delivered to four picking stations. In addition to delivery of product trays from storage, each of these stations diverts empty and filled trays. Two additional conveyors carry empty trays to the picking stations for filling.
The MCP by Interroll—the link between the small parts warehouse and the picking stations in the UHZ project—is essentially a plug-and-play system of modules that makes it easy to create sophisticated and flexible material flow solutions that can expand with ease. The integrated 24V RollerDrive guarantees a controlled and energy efficient flow of goods that can be adapted to suit current requirements.
UHZ employs more than 8,200 members of staff from 90 different countries. These include some 1,500 doctors, approximately 2,600 highly trained members nursing staff and 900 medical therapists and technicians. The hospital has around 2,000 employees in non-medical roles.
Ansorix, headquartered in the Swiss town of Fahrwangen, is a general contractor that provides intralogistics and automation consultancy, from evaluating new logistics concepts through construction, production and commissioning of the plants, to full documentation, training, maintenance and customer support.