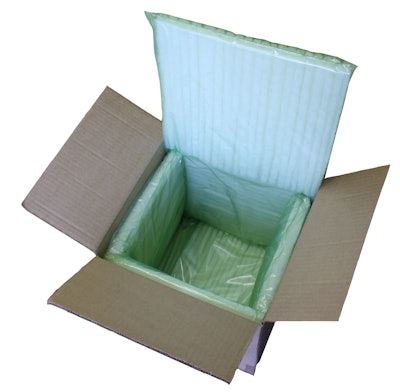 Compostable, biodegradable, and water-soluble, Green Cell Foam is a non-GMO cornstarch material grown in the U.S. that can be shaped and fabricated into shipping coolers, as well as protective and display packaging for use in numerous industries, such as pharmaceutical, food and nutritional supplements, including temperature-sensitive products.
From KTM Industries, Green Cell Foam has been manufactured and sold for 15 years now, though it has undergone changes since then. The company's website says, "Our goal is to replace polystyrene (EPS), polyurethane (PU) and polyethylene (PE) in single-use packaging for thermal insulating or shock-absorbing applications."
Green Cell Plus is a more recent addition to the company's product mix. It takes three-panel sections of Green Cell Foam and "envelopes" them in a recyclable PE film. Its Green Cell Foam insulated shipping coolers are engineered to offer thermal protection equal to polystyrene on an inch-for-inch basis, provide a barrier against moisture and humidity, and deliver shock, vibration, breaking and cracking resistance during shipping.
Yet the company notes, "More protection doesn't mean less green." Green Cell Foam's manufacturing process is said to require 70% less energy and 80% less greenhouse gases than do petroleum-based films. As for disposal, KTM says it is "backyard compostable, biodegradable and water-soluble (ASTM D6400 an BPI-certified)." In fact, a video on the company's website demonstrates that small pieces of Green Cell Foam can be placed in a sink and safely "melted" down the drain with water.
Material advances
Since KTM launched in 1997, it has moved into a 50,000 sq-ft facility that includes a new-generation extruder and full fabrication operation. Instead of simply manufacturing and selling raw Green Cell Foam as it did years ago, KTM President and CEO Tim Colonnese says the company now provides "a team of on-staff packaging engineers that work directly with prospective customers to understand their requirements and then design and deliver the Green Cell material into their operations with the least amount of change and disruption."
KTM generates about half of its revenue from shipping coolers, with protective packaging and display packaging evenly accounting for the remaining 50%. By industry segment, its shipping coolers sales are divided almost evenly among pharmaceuticals, foods and nutritional supplements.
Healthcare Packaging (HCP) and Colonnese recently discussed the use of Green Cell Foam in the life sciences industries in the following question-and-answer session.
HCP: How has Green Cell Foam changed over the past 20 years?
Colonnese: First, the material is dramatically more consistent for shock absorbing and thermal insulation applications. Second, its cost has significantly dropped. Our manufacturing team has worked constantly on both of these issues for several years. Our recent purchase of a Century twin-screw extruder is expected to advance this effort.
HCP: How is the material used for temperature-sensitive applications?
Colonnese: We had focused on short-term applications (no more than 48 hours) and using gel packs, avoiding applications that required longer durations and the use of dry ice (we knew that hygroscopic Green Cell Foam could not withstand these rigorous conditions). Last year, we made it a priority to address this. After extensive testing in the lab and in the field, we launched Green Cell Plus. Whereas Green Cell Foam Coolers use six panels of exposed foam, Green Cell Plus coolers use two sets of three-panel sections enveloped in a formed PE film to form an effective barrier against moisture and humidity.
In most temperature-sensitive applications, customers tend to focus only on the thermal insulation attributes of the cooler. Because Green Cell Foam is a flexible, multi-shock capable material, it also offers shock and vibration absorption, which not only protects the products inside from damage, but also avoids cracking and breaking, which compromises a cooler's ability to perform.
HCP: How does KTM envision Green Cell Foam in terms of its future within the pharmaceutical/healthcare space?
Colonnese: One of the biggest shifts in the healthcare/pharma arena is that many companies are trying to get away from EPS, even though it's cheap and effective.The combination of community EPS bans and customer displeasure is causing long-time users to search for a viable alternative with greater customer cachet.
In addition to working directly with pharmaceutical manufacturers such as Novartis, Sandoz and Fresenius-Kabi, we have identified hospital specialty pharmacies as an important customer base. We now have 10 health systems across the country that currently use Green Cell coolers.
Another trend is that healthcare/pharma companies are looking not [just] for suppliers, but for partners to assist in the development, testing, certification, production, stocking and even transportation of cold chain materials. Green Cell coolers are not the least costly option in the market—think EPS—but when you combine all of the additional support services, our pharma and food customers know they are getting great individualized value from us.
HCP: What are you hearing from pharmaceutical/healthcare companies in terms of sustainable packaging?
Colonnese: It is true that the pharma market paid little attention to "green" technologies, opting for "green" in the wallet. But our customers are saying that there are internal initiatives to demonstrate sustainability in their operations. As always, there is a delicate balancing act going on between cost and environmental impact.
Even though EPS is eminently recyclable, very few municipalities provide a recycling infrastructure to do so, relegating it to the landfill. Even worse than recycling rates, only 1% of Americans have access to a composting facility, whether it be industrial or backyard, also relegating these materials to the garbage can.
Companies in this article