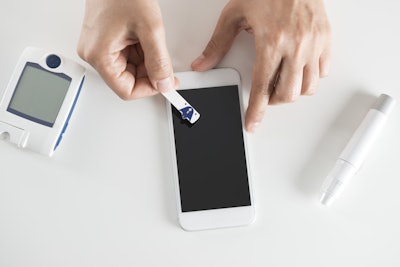 The convergence of technology and healthcare is disrupting health care processes, offering interactive tools to improve medication adherence and supply chain logistics, particularly for "last mile" issues.
In great part, technology-enabled healthcare is driven by a digital revolution, and its embrace by Millennials and Generation Xers who rely on electronic devices such as smartphones for everything from online banking to ordering UBER service to tracking and tracing the ingredients in their meal from "farm to fork." But that's just the beginning.
For example, consider this: A patient wakes up in the middle of the night about to experience a severe asthma attack. His "smart" inhaler is connected to the Cloud, allowing him to electronically communicate his symptoms to a physician who interprets the information, recommends a treatment and forwards an order for a prescription directly to a 3D printer in that patient's house. Within minutes, a personalized pill is produced and taken by the patient to alleviate his conditions.
A video of that specific scenario was shown by Paul Zikopoulos, VP of Competitive & Big Data Analytics Teams & Future Trends Expert with IBM during his keynote presentation, "The Big Data Revolution—Examining the Profound Current & Future Effects of this New Technology Frontier & the Benefit to your Business," at the Global Forum 15th Annual Temperature Controlled Life Science Supply Chains event Sept. 27 in Chicago.
The development of such asthma inhalers to improve medical outcomes is part of a global partnership between IBM and Teva Pharmaceuticals to enable drug development and chronic disease management fueled by IBM's Watson Health Cloud.
Zikopoulos' dynamic presentation touched upon numerous technology developments that further tie healthcare companies throughout the supply chain and companies involved in information technologies, such as Amazon.com, Facebook and IBM. He pointed to several technologies that he expects will have an impact on health care, including blockchain, big data, 4D printing, analytics/algorithms, artificial intelligence and the Internet of Things. Such technologies, said Zikopoulos, yield enormous power and potential in life sciences to "save time, save money and save lives."
Zikopoulos acknowledged, "We will be overwhelmed by data," noting that harnessing all the data and making computers more intelligent will be central to achieving health care advances. He noted, "We get an 'A+' for data collection, but only a 'C-' for our ability to make decisions on how to use that data. We're guilty of not knowing what we already know," he pointed out in reference to understanding and using data.
Zikopoulos suggested that data can address supply chain/cold chain logistics issues and patient nonadherence, noting the following:
• "$14 billion is spent on managing pharmaceutical products through the cold chain. The growth rate for cold chain shipments is two times that of products not requiring temperature-controlled shipments."
• "The cost of medical complications from non-compliant patients is $317 billion."
In at least one instance in the U.K., he said patients are using their smartphones to visually prove that they are taking medications. They can use e-mails, text messages and voicemails to communicate adherence to medical professionals/facilities. To encourage further adherence, one company offers patients points toward Cineplex movies.
Although not a packaging or supply chain expert, Zikopoulos noted that the convergence between health care and technology companies will become evident in product development, which will impact supply chain and logistics issues.
Manufacturers can use advanced condition-based monitoring systems to assist with deliveries. Examples here could be advanced weather alerts, vehicle tracking that can identify mechanical problems in advance, product temperature tracking, etc. In short, more data equals value-added real-time data that could identify a cooling system outage in a vehicle, ship or airplane. Systems could also identify counterfeit medications.
Zikopoulos provided several thought-provoking points during his Global Forum presentation, including the following:
• "Data is disrupting all business and can support the delivery of products we ship."
• "4D printing at the sub-atomic layer will change products."
• "The largest media company creates NO content—Facebook."
• "Blockchain is a trust mechanism for everything. It will likely put Western Union and Play Pal out of business."
• "Regenerative medical therapies will disrupt this industry."
Disrupting transportation
According to John Brownstein, Ph.D., Chief Innovation Officer & Professor at Boston Children's Hospital & Harvard University, "$6 billion is spent annually just on healthcare transportation—moving people to and from appointments. Many people are not getting to their appointments, or not getting their prescriptions filled because they have no way to get there. Transportation is a barrier to care."
In his Sept. 28 keynote address at the Global Forum, "Bringing Healthcare to People & People to Healthcare—The Future of Clinical Trials & Vaccine Distribution," he said, "UBER is the world's largest healthcare transportation provider." He said UBER, Lyft and Amazon.com are moving into provide healthcare transportation services to help improve patient outcomes, particularly with medication adherence.
Such services go beyond transporting patients to and from medical appointments. Brownstein said these services can also transport caregivers with medications to patient residences, or take medications directly from providers or pharmacies to patient homes, providing a faster delivery option to traditional mail options.
Brownstein asserted that in the not-too-distant future, self-driving/autonomous vehicles could be equipped with artificial intelligence for last-mile applications. Think about a patient sitting in the vehicle and having his blood pressure taken, with results transferred to a physician. One conference attendee brought up the potential medical liability issues that could be involved in this process. Brownstein recognized liability and regulations were issues that need to be resolved.
Just as Zikopoulos suggested on the first main conference day, Brownstein pointed to Chatbots as an important digital method to engage consumers with health-related concerns. He mentioned Buoy as an online service that employs an algorithm that enables patients to input their specific symptoms and conditions. Based on patient-provided details, a diagnosis is developed to offer treatment options.
Brownstein suggested the convergence of technology and healthcare will create "on-demand" healthcare, in which patients, caregivers, products and logistics efforts are more closely interconnected. Looking forward, he asked the audience, "What if access to medication knowledge and healthcare was as easy as ordering a pizza?"
Many of us are familiar with apps that allow us track the daily number of steps we take, or monitor calorie intake, heart rate, etc. But development is underway to deliver more interactive features that connect patients and physicians, with the aim of improving health outcomes. Consider it an e-version of personalized medicine. It's unclear what impact this will have on package design, material selection, or supply chain logistics strategies, but it makes sense to keep an eye on these developments.