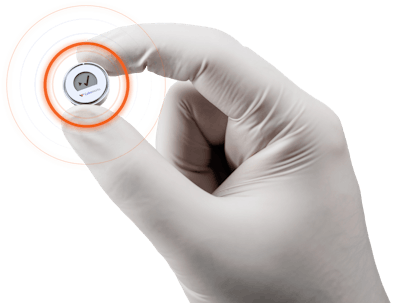 CubeWorks CubiSens™ XT1 is the first temperature tracker of its kind that enables product-level monitoring of biopharma products for temperature compliance and quality assurance for the entire lifecycle. Measuring at 16 mm in diameter, the CubiSens™ XT1 is 100x smaller than conventional data loggers, small enough to fit on any individual product that requires temperature monitoring.
"CubiSens™ XT1 represents CubeWorks' vision to enable new visibility with our ubiquitous IoT technology—first of many upcoming products that will disrupt the industrial IoT landscape with its low-cost, small form factor and the capacity for collecting data over long periods of time," says Gyouho Kim, PhD, CEO of CubeWorks. "This will be the first time that companies can gain visibility of temperature compliance by lifecycle of products instead of by segments within the supply chain."
Powering the CubiSens™ XT1 is CubeWorks' patented ultra-low power system-on-chip solution that enables 100x improvement in power efficiency and reduces the number of components in IoT devices by 10 times, making it highly scalable and cost effective for ubiquitous deployment. The result is a uniquely sized wireless temperature logger that is lightweight, low cost, and can be easily integrated onto vials, bottles, or product boxes to provide continuous temperature tracking of biologic products at a new level of granularity.
It features an "always on" display to show the compliance status, making it easy to implement across the entire supply chain, including the last mile. Data from the XT1 can be scanned by any smartphone and is uploaded instantaneously on the XTcloud™, an SaaS platform for data visualization and management that provides end-to-end temperature tracking of products for complete visibility throughout the supply chain.
Companies in this article