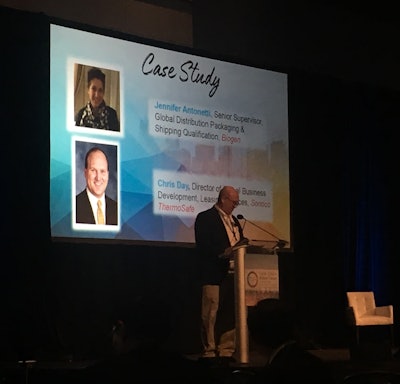 When DHL came to Sonoco Thermosafe approximately 18 months ago, they were seeking help for one of their customers. A global biopharma company was experiencing a high product failure rate upon active shipment—in the 90 days leading up to the container change, they had a one in five failure rate from mechanical and temperature issues.
As Chris Day, Director of Global Business Development at Sonoco Thermosafe, explained at the IQPC Global Cold Chain Forum Sep. 25, "It was to the point where if they needed six containers, they would order seven," due to the lack of reliability. The company was incurring substantial costs through lost or quarantined product and cancelled cargo bookings.
The failure rate came with additional issues: the average investigation time for deviations was 28 days because the company had to wait for the shipping container to return in order to pull data.
DHL selected PharmaPort 360, an active container with real-time monitoring and tracking capabilities and a proprietary heating and cooling system. Day pointed out that DHL has invested heavily in their temperature-controlled service offerings. Once they implemented PharmaPort, they were able to collect extensive data: internal and ambient, location and mechanical, which includes battery life and thermal systems.
(The system uses cell phone networks with GPS/GSM and sends data in real-time. During flight and in vaulted facilities, the system gathers data without sending it. When the container moves out of the airspace or vaulted area, it batch transmits the collected data.)
The results were immediate—zero temperature excursions, zero mechanical failures. "They're preventing a loss before it can happen," said Day. When trends were analyzed across two challenging shipping lanes for 436 shipments, the data showed that even the lowest and highest container temperatures did not come close to the reaching the limits of 2 or 8°C. (Of the two lanes they chose, one originated from Europe in winter and the other from San Juan, Puerto Rico, both ending in Australia in summer.)
Investigations used to take approximately four weeks, and the containers lacked detail which made the corrective actions more difficult to find. After implementation, while no excursions took place, there were two inquiries into what took place with a given container.
While on the phone with the customer, Sonoco was able to pull up the Trip Replay screen, zoom in down to the building level and clock on transmission points. With the location feed down to the second, they could see the container temperature at that time (5.2°C), as well as the cold plate temperature.Time, temperature and GPS data are fully synchronized, cloud-based and instantly accessible for five years.
When investigations come up in the future, robust data is only a few clicks away versus weeks with previous containers.
Data collection for enlightened decisions
Of course, once an operational issue has been solved, it's natural to begin looking at cost reduction strategies. Using data collected by the active shippers, the customer was able to consider a passive packaging option because they could see from the actual shipment data what they needed in a given lane.
Day said that over 60% of pharmaceutical client's shipments have since moved into non-active alternatives. In essence, they are gathering data for passive shipment while safely moving products in active shippers.
Companies in this article