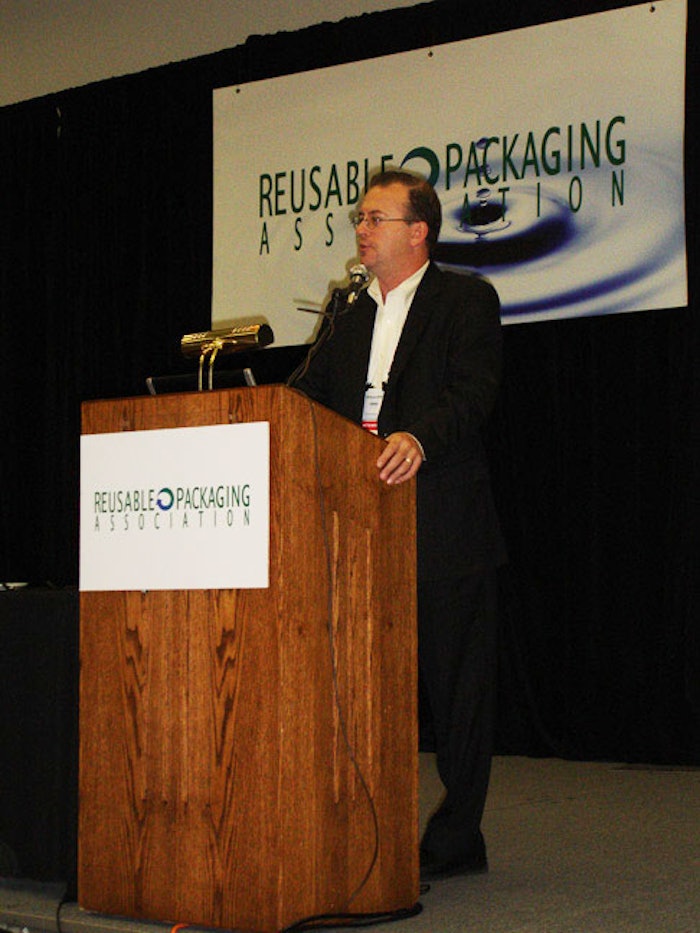 Over the past two weeks, prominent organizations including the
Reusable Packaging Association (RPA)
and the
Automotive Industry Action Group (AIAG)
have held events promoting the environmental, economical and supply chain efficiency benefits of using reusable packaging and asset tracking systems.
The 2009 RPA Choose Reusables conference, held October 5th - 7th in Las Vegas, gathered over 70 participants from prestigious national companies interested in learning how to cost effectively implement reusable packaging as part of the initiative to green their supply chains, while increasing operational efficiency. The panel discussions and seminars focused on the four stages involved in implementing reusable packaging, including awareness, acceptance, implementation and optimization.
"The event response was outstanding," says Drew Merrill, RPA Board Member and
Container and Pooling Solutions (CAPS)
VP Business Development. "We were particularly pleased to see increased interest from food and beverage end users. As manufacturing customers, these companies are on the front lines of emptying product from a variety of containers and have significant influence on the materials used. With increasing pressure to go green and cut costs, the end users are taking a larger interest and demanding the use of reusable containers. With a diverse group of representatives at different stages of reusable packaging implementation, we were able to have very prolific discussions."
While the RPA event focused on the stages of implementation, the AIAG Returnable Containers Call to Action Summit held on October 15th in Southfield, MI, put more emphasis on managing returnable containers in the supply chain through the use of tracking technology and container management systems. A group of over 100 attendees were present to discuss forming a committee comprised of automotive OE's and service providers. The group is tasked with developing returnable packaging implementation and use standards across all supply chains, in order to help the automotive industry better embrace and avoid typical pitfalls common with a reusable system.
"AIAG has a long history in the area of returnable containers and automatic identification," explains Morris Brown, AIAG Supply Chain Management Program Manager. "Given the technology improvements in tracking containers and strong emphasis on corporate responsibility, we feel the time is right to revisit returnable containers and tackle new projects to take cost and complexity out of the supply chain."
The timing and strong attendance of these events proves the demand for organizations to seriously consider and evaluate returnable container options, whether they are choosing to purchase, rent or initiate tracking and optimization for currently owned fleets.
Representatives from CAPS, a container rental and management company with over 10 years experience providing returnable container solutions to manufacturers and suppliers, were included among the expert panelists at the events. CAPS provides reusable liquid and dry containers on a rental basis to clients who have temporary or cyclical needs, while offering it's tracking, cleaning and repair services to those clients who need to optimize their fleet and increase the life of their containers.
Companies in this article