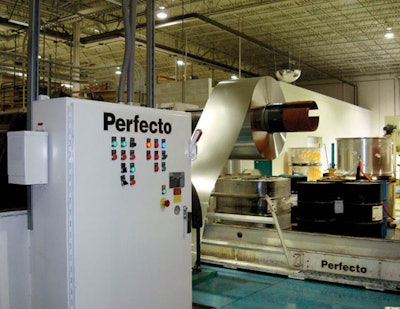 For about a decade, aluminum bottles for beverages have beckoned to brand marketers, the package's eye-catching, silver surface and shaping opportunities providing a powerful brand differentiator. But the cost has been less than attractive to those requiring high volumes. Premium, short-run niche-market products and limited-edition promotional packages have made up the bulk of aluminum beverage-bottle applications so far.
"The marketing world loves the aluminum bottle," says Ed Martin, business development manager for bottle manufacturer Exal Corp. , Youngstown, OH. "A lot of people like what you can do graphically, as well as with shaping. But from the standpoint of cost and sustainability, there are some challenges to the bottles because of the way they have been made using impact extrusion."
To address these challenges, Exal has invested eight years and many millions of dollars to engineer a new manufacturing process that allows for the production of aluminum bottles that weigh 30% to 40% less than cans made via impact extrusion (IE), at substantially faster line speeds. The technology, called Coil-to-Can (C2C), also utilizes from 57% to 65% post-consumer recycled aluminum alloy to manufacture the bottles, as opposed to the 99.7% pure virgin aluminum required for IE.
Martin says these new benefits build upon aluminum's existing strengths as a beverage package. Among them, he cites aluminum's "superior barrier properties, break-resistance, and UV protection." He adds, "In terms of sustainability, aluminum cans are the most desirable product in the recycling stream, as the use of recycled aluminum requires only 5 percent of the energy required to manufacture virgin aluminum."
Using C2C, Exal expects to give aluminum bottles "a seat at the table with glass and PET," Martin says. "Aluminum bottles can now be given full consideration for higher-volume beverage applications."
Best of breeds merged
In Martin's opinion, the standard aluminum beverage can, or the drawn and wall ironed (DWI) can, is "possibly the hardest working package in the business." Manufactured using a mechanical cold-forming process that starts when a flat blank is punched from a very stiff, cold-rolled sheet of aluminum, cans are formed through cupping, forming, and ironing processes. Through decades of engineering, the DWI can has been optimized in terms of wall thickness and manufacturing speed—reaching from 2,400 to 3,000 cans/min.
In contrast, IE was developed to produce a heavier-wall aerosol container that can withstand greater internal pressure. The process involves pushing a mandrel into a die cylinder containing an aluminum slug with up to 250 tons per square inch of force. Through the impact, the metal of the slug is forced to flow up along the inside of the die creating a seamless can body.
As IE has evolved, manufacturers have taken advantage of the softness of the container's pure aluminum alloy to add shaping capabilities to the necking area. "So you saw necking grow from just being able to work the very top of the container into a lot of shaped aerosol containers," explains Martin. From there, manufacturers began to offer threaded bottle openings, bringing resealable aluminum cans to the beverage market.
One advantage of the IE process for beverage cans is the high-quality graphics capabilities, achieved through the use of custom, solvent-based inks, custom basecoats, the curing and drying process, and emerging plate technologies. However, the production speed for IE aluminum bottles, at 200 cans/min, lags far behind DWI.
Therefore, as beverage marketers weighed the relative advantages of these processes for the manufacture of their packaging, it became a trade-off between efficiency and cost versus shelf-impact. Says Martin: "Then you start balancing, 'Well, I can make a very lightweight aluminum package, but it will be a DWI beverage container. Or, I can make something that has a lot of appeal from a shape and graphics standpoint, but it's going to be more expensive, and it's not going to be as sustainable as perhaps it could be.'"
Enter C2C: A hybrid technology, C2C marries the manufacturing speed and light-weighting abilities of standard beverage-can technology with the dynamic shaping and graphics abilities of IE container manufacturing. As Exal president and CEO Delfin Gibert relates, the company originally started developing C2C as a way to reduce the cost of aerosol can manufacturing without decreasing its margins. However, the process resulted in thinner-walled cans, "which present some challenges to U.S. DOT [Department of Transportation] regulations," he notes. And so, Exal turned its focus to beverages.
"And here we are eight years later," Gibert says. "But it was a very painful road. We thought the process would be easier, but you have to have a perfect cylinder in order to thread and shape the bottle. You can't even have a single grain of dust on the surface of the can because it can cause a dimple in the shoulder of the bottle. So we have tweaked everything."
Custom necker is vital
The key to C2C is combining traditional DWI beverage canmaking technology on the front end with the IE shaping capabilities on the back end, using a custom-designed 32-station, double-turret continuous necking machine from Frattini S.p.A. The necking machine, commissioned by Exal expressly for C2C, is engineered to handle the less-malleable materials used for DWI cans at speeds up to 3,000 bottles/min. The 3104 alloy used for DWI beverage cans is lighter but stronger and harder than the 1070 pure virgin aluminum alloy used for IE and is much harder to shape.
The new C2C line—producing cans measuring 53-mm dia, in lengths from 175 to 205 mm—is installed in Exal's Youngstown plant, which also houses 13 IE lines. The line starts with a Perfecto coil handler that handles rolls of Alcoa 3000 Series aluminum body stock. The aluminum sheet is fed to a DAC-150-84 cupping press from The Minster Machine Co. that punches the sheets into blanks that are drawn and redrawn into shallow cups. The cups then enter a 5500 Canmaker bodymaker from Carnaud Metalbox , where they are shaped into cans, then ironed and trimmed.
Next on the line is equipment that is unique to a DWI line, but distinguishes Exal's cans: a Carnaud Metalbox 6000 Canbrusher that brushes the surface of the cylinder to reduce the reflectivity, giving the final package more "elegance," says Gibert. "We created a novelty in this business with the brushed surface," he notes.
After brushing, cans are washed to remove any aluminum fines and then are dried. Following the dryer, a pin-chain accumulator allows up to 2,500 cans to accumulate if there is a pause in downstream operations.
The next step is application of an internal liner using equipment from Sprimag. The Bisphenol A-free coating prevents chemical reactions between the aluminum can and its contents. After coating, cans are carried through a dryer that cures the inside lacquer. Another pin-chain conveyor follows, for further flexibility.
Decorating is a two-step process. First, a Hinterkopf C400 coater applies a basecoat primer to the cans, after which a second C400 prints the cans using a dry-offset process. An overvarnish makes inks shine and provides the can surface with abrasion-resistance.
As Gibert tells Packaging World, new digital printing technology development by Exal, in partnership with Impika , promises to take graphics for C2C cans to the next level. "It will be beautiful; it prints to perfection," he says. "The vision of high-speed C2C aluminum-bottle manufacturing with digital printing is to obtain a low-cost package with extremely high-quality graphics. So packagers will be paying the same prices they are used to, but they will be getting a much, much more attractive package."
The last major process on the line is shaping, done by the custom-engineered double-turret necker from Frattini. The necker can shape an area of the can extending from 80 to 90 mm down from the top. As Gibert explains, because of the greater strength of the aluminum alloy used, twice as many shaping dies (as are used with IE) are required to produce the desired effect.
At present, Exal offers existing toolsets to customers to produce stock containers, but customized applications are also being developed. In addition, Exal is in the process of adding a pre-necking machine to the line that will allow the bottom portion of the can to be shaped, as well. In future C2C lines, a single machine developed by Frattini will allow for pre-necking and necking in one operation. After shaping, cans are washed to remove the food-grade mineral oil that is added before necking to facilitate shaping. The cans are then palletized, ready for shipment to the packager.
A big contender for beverages
After years in development, C2C is ready for prime time. In 2008, two commercial applications of the aluminum bottle were introduced to the market: Blue Spike Beverages' Octane 7.0 vodka and guarana-based drink, and Eska still and sparkling water, from Eaux Vives Water, Inc. (see sidebar on p. 35). In addition, in Q4-2009, a major, mainstream marketer will be launching its product in a custom-shaped C2C bottle. As Martin told PW during a recent plant visit, "The future is largely C2C. In terms of dollars and units, it's going to be largely the coil-to-can type containers that will drive the aluminum beverage-bottle market." To meet this estimated demand, Exal has secured a 66-acre lot in Youngstown where it plans to build a new, $300 million, 900,000-sq-ft plant dedicated to C2C. The plant will be equipped with five lines—three running 1,500 bottles/min, and two at 3,000/min.
Says Gibert, "It's a huge investment these days in light of the economic downturn. But we have to overcome this negativity and be prepared for when the good times come back, which—as we all know—they will."
Among the markets in which Exal sees the greatest potential for C2C packaging are wine, functional or wellness beverages, water, carbonated soft drinks, and beer. "We think aluminum has a great story to tell," says Martin. "We do not plan or desire to put PET or glass out of business, but we think that C2C has a place in the higher-volume beverage container market."

Companies in this article