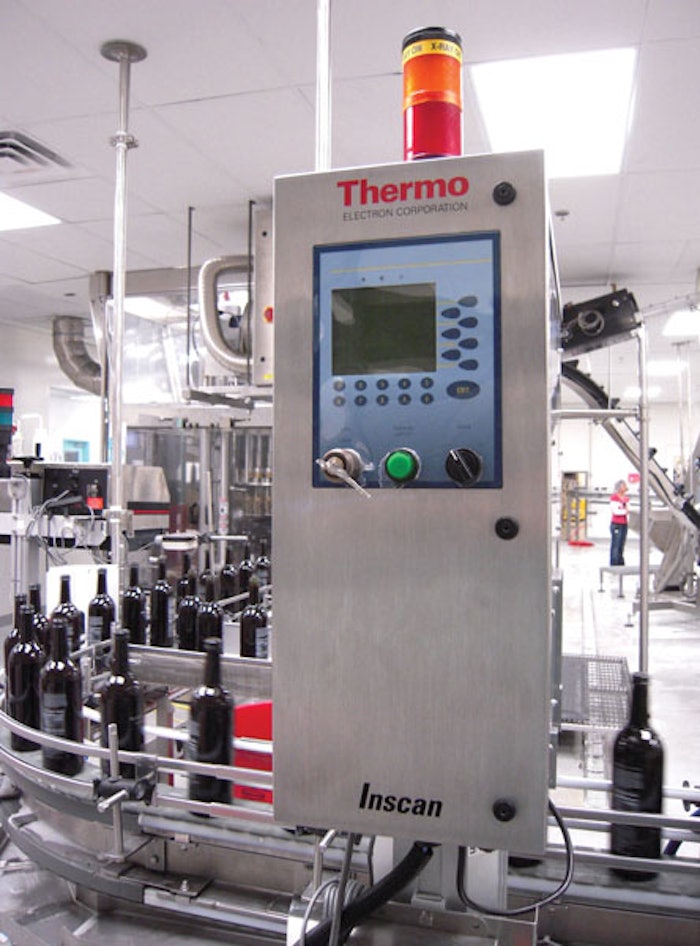 Antioxidant-rich juices are a growing trend among health-conscious consumers—and the mainstay of SupraNatural's business. The co-packer of nutraceuticals, liquid fills, and dietary supplements blends the ingredients for functional drinks and stores them in one of six refrigerated 5,500-gal stainless-steel tanks. After the product is blended and pasteurized, it enters a Class 100 filler enclosure where it is filled in glass, PET, or high-density polyethylene bottles in sizes ranging from 500 mL to 1 L.
"We were using an antiquated 24-head filler," says Jed Mower, SupraNaturals' engineering manager, "and fill rates were very slow, ranging from 45 to 70 bottles a minute." But the biggest problem with the old filler, he adds, was microbial growth. "We had a really hard time cleaning the machine and keeping our microbial counts down. We would have to disassemble the nozzles and hoses, and it would take three to four hours to clean the machine."
Additionally, fill levels were inconsistent. "We always overfilled slightly to ensure we met our fill level claims," explains Mower. Product was also lost when bottles broke on the line as a result of the capper's inconsistent torque. "Yields above 97 percent are considered good in our industry," says Mower. "Our yields were in the low 90s."
The process
SupraNaturals invested in a F6.2 FAA-5418 filling machine from Fogg Filler (www.foggfiller.com) equipped with 54 filling valves and an 18-head CA 12 N series capper made by Fowler Products Co. (www.fowlerproducts.com). The new filling machine is capable of hot and cold filling and replaces two machines: one used exclusively for cold-fill applications and the other for hot fill. In addition to its smaller footprint, the new system has helped simplify operator training.
After bottles are inverted and rinsed using Fogg Filler's two-stage bottle rinser, they enter the rotary filling machine. Currently, the new system is used to hot-fill 750- and 1,000-mL glass bottles and cold-fill 550- and 1,050-mL PET bottles. The filler is capable of running up to 600 bottles/min.
Prior to capping the bottles, the machine's VAC 18 sorter and feeder sorts plastic caps and rolls them down a cap track, which feeds them into the filler. As the caps travel along the cap track, a high-intensity Fogg Microb-Blaster uses pulsed UV light to sanitize them before they enter the Class 100 filling environment. The UV light kills 99.0% to 99.9999% of all potentially harmful organisms.
"The cap sterilizer guarantees a one to six log reduction on microbes," says Mower. "We ran tests with the new machine, and we have been able to attain a four log reduction on our particular plastic caps." Metal caps are sorted using a Fowler CA N series sorter and conveyed with HEPA-filtered air. They do not pass through the Microb-Blaster.
After filling, PET bottles are capped with plastic caps, and glass bottles are capped with ROPE (roll-on pilfer-evident) closures. The Fowler capper is unique, says Mower, because the capping heads on the turrets can be changed to handle either plastic or ROPE caps, while most capper's turrets handle only one type of cap.
After filling and capping, the bottles enter a Thermo Scientific (www.thermo.com/food) InScan 100 X-ray inspection system that checks the fill level, identifies missing or misaligned caps, and looks for contaminants in the liquid. The system can inspect up to 2,400 containers/min using a non-ionizing, low-power X-ray technology to capture the container images and details. Hot-filled products in glass bottles with ROPE caps are then inverted to ensure any bacteria that may have been inside the caps are treated.
Glass bottles enter a cooling tunnel where they are taken from 185ºF down to ambient temperature, a process that takes about 20 to 25 minutes. Then, a DYNAC Model 6400S from Hartness Intl. (www.hartness.com) accumulates the bottles vertically and provides natural separation between them to relieve pressure on the line.
Bottles are conveyed to the Axon (www.axoncorp.com) EZ-100 tamper-evident neck-band applicator. "The Axon is primarily used for neck bands on the 750-milliliter glass wine bottles," says Mower. "We have two machines placed in series with each other, and we can run one at 225 bottles a minute or two at 450 bottles a minute if needed." The Axon EZ-100 replaces approximately six people that applied the neck bands manually. Full-body shrink sleeves are applied with a model R-300 TSERT sleever from PDC Intl. Corp. (www.pdc-corp.com).
Bottles then pass through a PDC steam tunnel that shrinks the neck band or the sleeve to the bottle. After the steam tunnel, a Model 400 inspection system from Mettler-Toledo (www.mt.com) checks the bottles for any foreign contaminants and automatically rejects them if any are found. Next a Hartness Model 2800 AT S series air-transfer case-packer system packs bottles into four-packs or 12-packs. In addition to replacing a drop packer that couldn't handle four-packs, the new case packer replaces 30 people who packed bottles into four-packs by hand, explains Mower.
Lastly, a Columbia (www.palletizing.com) FL 510 machine palletizes the cartons, and a Rotoplat 3000 HD from Robopac Sistemi (www.robopacsistemi.com) wraps the packed cartons. Wrapped pallets are then transported to the shipping area for shipping.
Yield to success
Since the new filler, capper, and neck-band applicator were installed, production capacity has increased threefold, says Mower. SupraNaturals has also drastically reduced the amount of product lost during filling. "Recently, yields are approaching 98 percent," says Mower. The company's microbial problems have been eliminated. "The design and finish of the filler has simplified cleaning and reduced cleaning times with consistent results," Mower adds.
Furthermore, the new filler has saved the company money on process piping. "We used to have piping coming from the pasteurizer to two separate fillers," explains Mower. "Now we have only one set of pipes and one set of valves, which allowed us to simplify programming of the control systems from the PLC. Chance of mechanical failure or human error has been greatly minimized."
Companies in this article