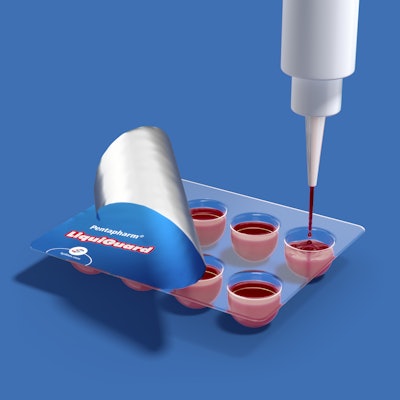 Klöckner Pentaplast introduced LiquiGuard, the latest addition to the Pentapharm line of pharmaceutical blister films. The limitations of blister films to withstand hot-fill liquids and other emerging dosage forms made it difficult for blister packaging to be a viable option for nutraceuticals and medications beyond solid oral dose formulations. With Pentapharm LiquiGuard, hot and cold-fill liquids and semi-solids can be formed and packaged directly in a crystal-clear, thermostable laminate film that protects sensitive products from package leaching and moisture gain or loss.
Pentapharm LiquiGuard films are ideal for a range of applications such as chewables, nutraceuticals, pharmaceuticals, formulations sensitive to flavor or odor loss, unit dose liquids, and veterinary packaging. These films provide high heat stability, low leachability, and extractability with odor and flavor retention, one-stage forming and packaging of hot-fill products, and visual clarity for enhanced shelf appeal.
"Pentapharm LiquiGuard provides an advanced option for single unit dose packaging of medications in any dosage form that require resistance to extreme temperatures up to 120°C during processing, while offering all the benefits of a clear, thermoformable blister film with a customizable moisture barrier," says Daniel Stagnaro, director, market development, pharmaceutical packaging.
Companies in this article
Videos from Klöckner Pentaplast Pharma, Health & Protection and Durables