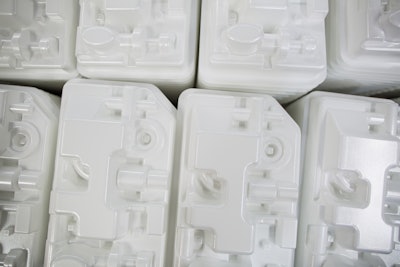 Pacur LLC is introducing its PETG foam, made with Eastman Eastalite™ copolyester, for medical packaging. The opaque, extruded, multilayer product is a durable and clean alternative to HIPS for opaque, rigid medical packaging. Pacur collaborated with Eastman Chemical Company and Tek Pak Inc. to create and launch the new lightweight material.
Pacur PETG foam is made from skins of Eastman Eastar™ copolyester 6763, and its core is made with Eastman Eastalite copolyester. The foamed Eastalite copolyester core provides lightweighting and a cushioning effect. Because of this unique structure, the opaque material is shock-absorbent for impact resistance during shipping. When thermoformed into packages, the multilayer sheeting offers a physical barrier to microbes and product protection over the desired shelf life for medical devices.
Containers formed from Eastman Eastalite copolyester extruded sheet can be designed with deep undercuts and durable living hinges, and exhibit less stress whitening than packaging molded from HIPS, according to the vendor. Eastalite also can provide greater tear strength while retaining color stability and functional integrity following EtO sterilization or gamma irradiation.
Eastman Eastalite copolyester is made without butadiene, bisphenol A, bisphenol S, ortho-phthalates, or halogens such as chlorine or bromine. The material is compliant with select ISO 10993 requirements for medical device biocompatibility and applicable parts of ISO 11607.
Companies in this article