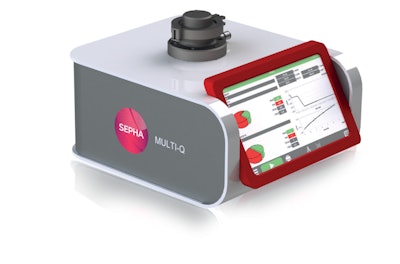 System offers an all-in-one solution to test the integrity of all types of containers including sachets, pouches, bags, bottles, vials, ampoules, trays, devices, and modified atmosphere packaging (MAP).
Using non-destructive methods including vacuum decay (ASTM F 2338-09 (2013)), pressure decay ramp to proof pressure, occlusion, and a vacuum flexible membrane, the Multi-Q provides the flexibility to test different containers in variable sizes for defect types including cracks, channels, gross holes as well as pinholes down to 5μm.
The lab-scale unit has a small footprint and offers the flexibility to switch between test attachments depending on product and specified test requirements. Test attachments can be easily changed and can be automatically detected by the system once in place. The relevant recipes for the selected attachment will be available to start testing immediately.
The non-destructive and deterministic test methods provide quick, reliable and repeatable results enabling customers to improve the accuracy of their leak detection procedures and reduce cost as the method prevents the packaging from being damaged.
Companies in this article