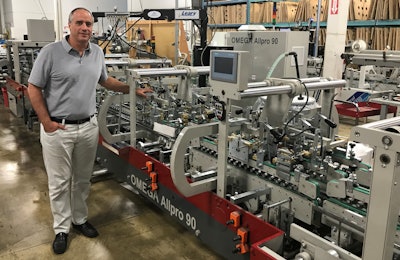 This content was written and submitted by the supplier. It has only been modified to comply with this publication's space and style.
Canadian packaging specialist Ellis Paper Box, a member of the Ellis Group, the country's largest privately-held manufacturer of folding cartons, always has its elite customers at the forefront of its mind and central to its business philosophy. To better service its leading international pharmaceutical firms, Ellis added a new Koenig & Bauer Duran Omega Allpro 90 folder gluer---the first in North America--- to its post-press department at its 60,000 sq ft Mississauga, Ontario facility this spring.
"We've developed a successful reputation as one of the most valued manufacturers in the industry because we understand and respect the demanding standards required by the pharmaceutical market, which has assisted us in all other segments of the folding carton industry," says Dave Ellis, the firm's president. "Our customers are continually challenging us with unique value-added features. We listen carefully to our clients to understand what drives their business. We recognized that to be truly different from our competitors, we needed to provide these services under our own roof that not only meet but actually anticipate and solve these challenges."
Ellis had been diligently researching the Omega Allpro line as an added benefit when Duran became part of the Koenig & Bauer family late last year. "We had already developed a great relationship with Koenig and Bauer through our purchase of their Iberica brand of die cutters last year," recalls Ellis. "When Koenig and Bauer purchased Duran and its Omega products, it seemed to be an ideal situation for both parties. I believe Koenig & Bauer will continue to be a very important partner to the Ellis Group for many years."
Ellis was attracted to the Omega Allpro because the folder gluers handle a wide range of substrates from cartonboard to corrugated, are extremely versatile and capable of producing the most complex range of carton styles, which minimizes makeready and maximizes productivity and profitability. Allpro folder gluers produce straight line, double wall, crash lock and optional four- and six- corner with single finger servo fold for high speed precision as well as inner partition, Z-fold, conical crash lock and CD boxes at a maximum belt speed of 400 m/ min. All Omega gluers are equipped with touch screen control panels, and modems for diagnostic purposes that are designed for strength and reliability. Omega Allpro gluers have motorized or motorized with memory versions as well.
"As we continue to grow our market share, we have added new business with new requirements," says Ellis. "Our new folder gluer will have the ability to manufacture all styles of cartons including straight line, auto bottom, four- and six- corner, as well as some of our own uniquely-designed styles. The machine is very quick to make ready and produces extremely high quality results."
Ellis prides itself on its customer driven quality process and expertly trained employees. Pharmaceutical manufacturers, he says, are looking for well-organized, clean facilities with an emphasis on Good Manufacturing Practices (GMP), a system for ensuring that products are consistently produced and controlled according to quality standards. It is designed to minimize the risks involved in any pharmaceutical production that cannot be eliminated through testing the final product.
"We're successful due in part to our commitment to the industry, commitment to our employees, and our relentless pursuit to remain the most progressive carton company in Canada," says Dave Ellis. "We offer a total in-house capability to control all aspects of structural design, electronic proofing, and die making. Our three phase electronic verification is critical to our assurance of full responsibility for product quality and compliance to Good Manufacturing Practices (GMP). At other firms, folder gluers are often undervalued and underutilized. But at Ellis Paper Box, they are an integral part of our quality system and value added propositions."
The entire three facilities that make up the Ellis Group organization are centered amid the Toronto, Ontario region. Ellis Packaging is headquartered in Pickering, along the shores of Lake Ontario while Ellis Packaging West is in Guelph,approximately one hour west of the city. The Ellis Paper Box facility is a modern two story glass building located in Mississauga, just minutes from the airport.
Founded in 1946 in Ontario, Canada, The Ellis Group is comprised of over 250 employees at Ellis Packaging, Ellis Paper Box and Ellis Packaging West servicing and specializing in the food, confectionary, pharmaceutical, neutraceutical and beverage industries. It has earned a superior reputation for the design, production and distribution of paperboard packaging. Its customers are comprised of North America's largest brand name companies due to its expert handling of projects from initial consultation, design and pre-press through to production and distribution.
Koenig & Bauer (US) is located in Dallas, Texas and a member of the Koenig & Bauer Group, which was established over 200 years ago in Würzburg, Germany. Koenig & Bauer's claim, "We're on it." gets to the heart of Koenig & Bauer's values and competencies for all target groups. The group's product range is the broadest in the industry; its portfolio includes sheetfed offset presses in all format classes, post press die cutting, folder gluers, inkjet presses and systems, flexographic presses, commercial and newspaper web presses, corrugated presses, special presses for banknotes, securities, metal-decorating, glass and plastic decorating. For more information visit the company's web site at www.koenig-bauer.com.