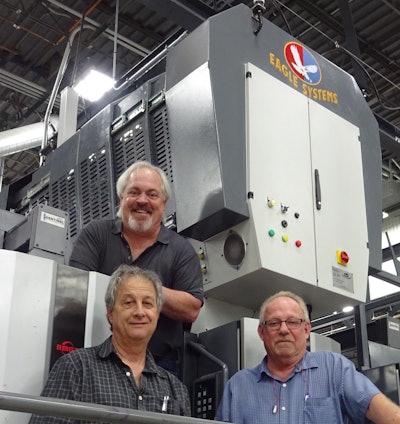 Colbert Packaging Corporation, a premier provider of paperboard packaging solutions, announces a new offset printing capability utilizing cold foil technology. Colbert customers will benefit from its newest equipment offering brilliant, metallic accent colors.
Product marketers turn to cold foil application for an edgy and unique way to get noticed. Cold foil effects are an impactful tool for enhancing product appearance on shelf, particularly for cosmetic and beauty packaging, and OTC healthcare product packaging, where a sea of competitors vie for consumer attention and share-of-mind. A study, commissioned by the Foil and Specialty Effects Association, found foil stamping on packaging provides real benefits with respect to attracting and holding consumer attention (FSEA, 2014).
"In the past, we had to either run foil board or send sheets out for hot foil stamping," said Colbert SVP of Business Development, Lon Johnson. "As more customers add foil-decorated packaging to their graphic palettes, our new cold foil unit delivers enhanced creativity and a streamlined print process."
The Eco-Eagle Cold Foil Module from Eagle Systems represents an improved alternative to specialty inks or hot foil for these reasons and more:
The cold foil option provides a true metallic surface because cold foil is applied directly to the substrate, rather than using metallic inks to simulate the look of foil.
Thanks to the module's smart internal programming, custom-designed metallic fine lines, screens and gradient effects are limitless.
The cold foil process runs inline, in one pass, so the product will be finished at the press run and ready for market sooner.
For those concerned about sustainability, paperboard packaging printed using the cold foil process is 100% recyclable.
Package designs featuring cold foil graphics display a unique visual energy for greater shelf appeal and brand identification. "Cold foil can be applied on most substrates and over printed with any color in the rainbow," said Bill Snyder, Colbert vice president of operations. "The new unit's software directs the finest of reverse and positive type, with line and screen settings down to three points and infinite gradient effects."
For more information about Colbert Packaging's safe, smart and sustainable custom packaging solutions, visit www.colbertpkg.com or call (847) 367-5990.
STUDY: Foil & Specialty Effects Association. 2014. An Initial Study into the Impact of High-Visibility Enhancements on Shelf Presence.
Colbert Packaging Corporation is an independent, family-owned business with extensive industry knowledge, R&D and manufacturing capabilities, customer service expertise, and a solid reputation for excellence. Founded in 1959, Colbert Packaging has grown its portfolio of paperboard packaging solutions into one of the most comprehensive, diverse and inventive in the industry. Lake Forest, Ill., is home to Colbert's headquarters and its custom folding carton operation. Flexographic-printed cartons, pressure-sensitive roll labels and package inserts are produced in Kenosha, Wis., and folding cartons and paper tray forming is handled in its Elkhart, Ind. facility. Learn more at www.colbertpkg.com.