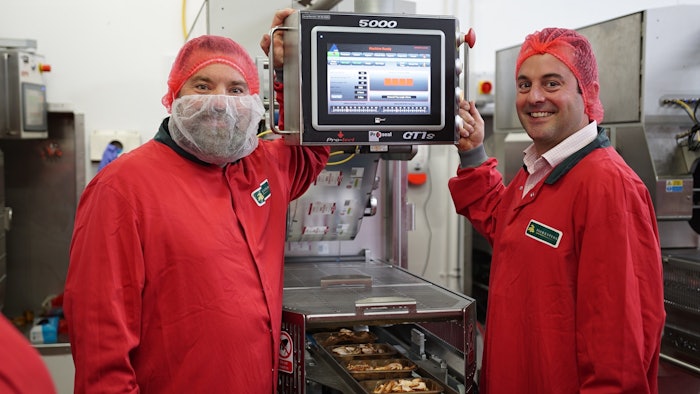 Proseal's first ever tray sealer, was manufactured in May 1998 and is now known as the GTR. Machine serial number 5000, a GT1s model, has been purchased by existing and long-standing local Cheshire customer, Forresters – one of the UK's leading suppliers of cooked and coated chicken.
"We bought our first Proseal tray sealing machine, a GT1, in 2013 and we've been using them ever since," comments Forrester's Director, Angus Dilliway-Parry. "The 5000 machine was our 10th Proseal tray sealer and we've since ordered three more."
Established in 1972 in Frodsham, Cheshire, Forresters currently has 13 Proseal machines in operation at its factory. The machines are providing a fast and reliable sealing operation, running for twenty-four hours a day, six days a week at a speed of 35-40 packs per minute depending on tray size and type. The company produces around 940,000 trays per week.
"Proseal is our only supplier of tray sealers and we wouldn't consider using anyone else," continues Angus. "The machines produce excellent quality seals and the company's after sales service is first rate. We are delighted to have purchased Proseal's serial number 5000 and share in the success of another local company."
The Proseal GT range has the flexibility to perform a wide range of heat seals, including Modified Atmosphere Packaging (MAP), Vacuum MAP, Skin, Skin Plus and Skin Deep. Like all Proseal machines, the GT range offers a rugged and hygienic food industry approved construction with washdown protection, a vital factor for the meat and poultry sector.
The GT1s tray sealer combines a compact design with high throughputs and rapid tool-changes. It incorporates several Proseal-developed features that help to maximise performance, reliability and efficiency, such as the company's pioneering Eseal® technology which ensures excellent seal reliability to meet the stringent quality requirements of the food retail sector while achieving a 92% reduction in energy usage.
Another innovation, Promotion, increases throughput by up to 30% using following motion and intelligent buffering technology that enables trays to feed continuously into the sealer without stopping.
As well as designing its machines for long term durability, reliability and efficiency Proseal is committed to supporting all its machines throughout their lifetimes.
"We aim to provide first class, long-term after sales support to all our customers," explains Andrew Beeley, Proseal Customer Relationship Manager. "We have a fantastic working relationship with Forresters and we are looking forward to continuing this long standing relationship as the company continues to grow and develop."
Founded in 1998, Proseal designs and manufactures high quality tray sealing machines, conveyor systems and sealing tools for food industry markets worldwide. The company became part of the US-based JBT Corporation earlier this year.