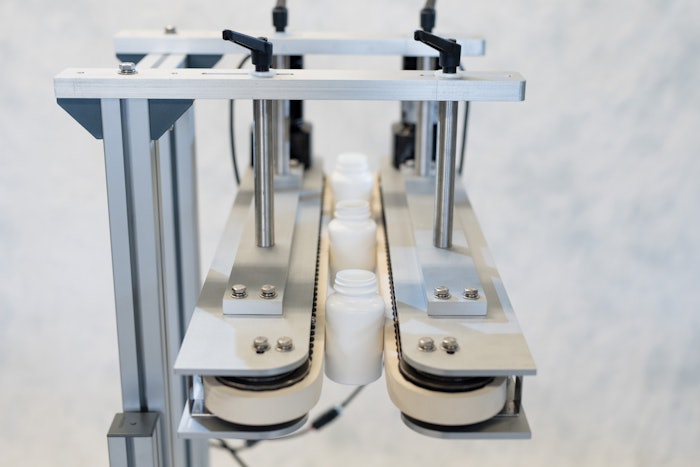 The Pharmafill BCV1 Bottomless Conveyor from packaging machinery manufacturer Deitz Co., Wall, NJ (www.Deitzco.com), features an optional, adjustable height lift stand that allows the conveyor to be quickly raised or lowered by up to 11-1/2 inches. Designed with industry standard mounting hardware included, the height-adjustable hugger belt conveyor was developed to help packaging engineers precisely match the conveyor height to existing filling and packaging equipment and ensure proper grip on the bottles without requiring adjustments to the existing machinery. Installation and setup move fast while operation is consistent and reliable.

To be shown in live action at Pack Expo International booth LS-5802 in Las Vegas, NV on Sept. 23rd, 2019, the powered, height-adjustable Bottomless Conveyor automatically captures bottles, jars and other filled or empty containers from a conveyor, grips them at the shoulders between dual side belts, and gently conveys them over a printer for automated bottom coding, around corners for active transfer, or towards discharge onto a turntable or conveyor without stopping or disrupting the flow. The Bottomless Conveyor is manufactured in the company's Wall, New Jersey, headquarters, and ships fully tested and assembled on casters for easy installation and movement around the packaging line.

For more information, contact the sales staff, Deitz Co., Inc.; 1750 Route 34, PO Box 1108, Wall, NJ 07719 USA; 732.681.0200; Fax 732.681.8468; www.deitzco.com; sales@deitzco.com.