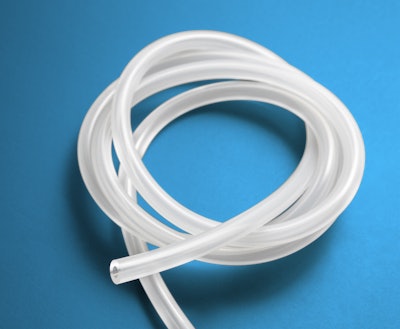 Natvar will be discussing its latest silicone tubing range which features an inside diameter of 0.2-25 mm (0.0079-0.984 inches), with wall thicknesses ranging from 0.10-3.0 mm (0.0039-0.118 inches), and tolerances as low as +/- 0.03 mm (0.001 inch). This newly expanded range of Natvar single-lumen silicone tubing is intended to better serve a range of medical pump applications, including peristaltic and patient-controlled analgesia (PCA) pumps.
Additionally, Natvar's SurePath 151 coextruded PE/PVC tubing is ideal for anesthesia monitoring lines, as well as administering unstable solutions such as nitroglycerine and insulin.
Action Technology is a world class manufacturer of extruded plastic tubes and components designed for medical and pharmaceutical applications requiring precise, critically-tight tolerances. The business unit produces round and flat sticks used in "swab" applications for wound cleaning, surgical prep and diagnostic test purposes. It also manufactures protective needle covers, tubes used to protect surgical devices and specialized tubes used in blood pressure cuffs and wound drainage. Finally, Action Technology components are incorporated into pharmaceutical spray and mist applications.
Action Technology also has manufacturing expertise in the following processes including extrusion, rubber sheet calendaring, rubber and plastic part punching and molding. Its state-of-the-art equipment and processing allows it to deliver components that meet the tight tolerances required by demanding applications. It also develops custom compounds to meet specific customer needs and challenges, as well as uncured compound, tight tolerance sheet and complex molded and die cut parts.