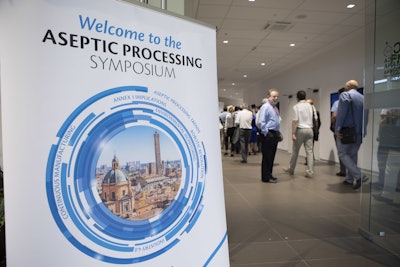 This content was written and submitted by the supplier. It has only been modified to comply with this publication's space and style.
Promoted and organised down to the very last detail by IMA Life, the Aseptic Processing Symposium held June 13/14 in Bologna has proved to be a huge success.
Key speakers addressed an international audience of more than 100 leading pharmaceutical and biopharmaceutical industry professionals from 24 countries worldwide. The topics covered generated widespread interest and the networking opportunities, encouraged by the positive and collaborative, yet relaxed atmosphere gave rise to fruitful interaction among all participants.
Speakers of international calibre such as Phil Templeton, MD of Aseptic Technology and Design Ltd., discussed the management and planning of isolator projects. Michael Hamilton from Jacobs USA presented recent case studies illustrating process design for aseptic filling. Robert Roy, Director of Aseptic Technology at IIPS, talked of the latest trends in aseptic processing, while OSIsoft representatives gave speeches on a data-centric foundation for the pharmaceutical industry. Two key technological partners of IMA Life, TSI dealing with micro-biological air sampling and Corning introducing their latest Valor® Glass vials, contributed to the rich subject matter. Last but not least, participants were able to discover the benefits of advanced robotics illustrated by two speakers (Flavio Brambilla from ADIENNE Pharma & Biotech, and Alberto Penati from Patheon-Thermo Fisher Scientific) whose first-hand experience of INJECTA gave valuable insight into IMA Life's latest fill-finish machine for nested ready-to-use syringes, vials and cartridges.
Whereas INJECTA was on show and, during the tour of IMA Life's facility in Ozzano Emilia, could be viewed close-up alongside other integrated aseptic processing lines, the other important innovation in Spray Freeze Drying Technology was presented during the conference by Arnab Ganguly, Technology Manager at IMA Life North America. LYnfinity enables the only freeze drying process allowing continuous aseptic manufacturing from formulation to powder dispensing.
IMA Life Sales & Marketing Director Michele Arduini commented: "The symposium was as a marvellous opportunity for participants to acquire in-depth knowledge and enabled a privileged insight into a wealth of trending topics directly from the experts, whom I wish to thank personally on behalf of IMA Life for their invaluable contribution. We look forward to organising similar events in the near future and will soon be arranging registration to our Isolation Technologies training course to be held at the IMA Life facility".