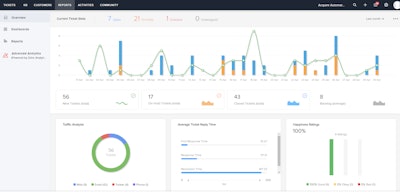 From initial service request through each step to completion, customers can get real-time information about the progress of their service requests, enabling them to minimize repair downtime and plan scheduled maintenance.
"This new program takes our already strong service to great service, enabling customers to keep continuously informed about the progress of their service requests at any moment and when they can expect them to be completed," says Brian Mack, Acquire Automation Vice President and General Manager. "By categorizing requests based on urgency, the program also helps customers in planning service downtime into their production cycles, turning unplanned outages into scheduled maintenance to minimize lost productivity."
At the heart of the new program is ZOHO Desk, help desk software that stores and tracks the progress of individual Acquire customer service work tickets, categorizing them into based on level of urgency. It then records each step of the service process as it occurs. The system can also connect the customer to a service technician if necessary.
With the new program, when Acquire Automation's Service Department receives a customer service request, it replies by assigning the request a unique ticket number. The customer then goes to the ZOHO web site (https://desk.zoho.com/portal/acquireautomation/) and establishes an account that enables the customer to track the progress of the service request through to its completion. If at any time the customer has questions about the process, it can contact Acquire Automation service technicians directly for answers by calling 317-288-9710. Companies can also access the department's extensive Knowledge Base that helps customers understand and anticipate common equipment challenges to improve maintenance, and enables them to troubleshoot common equipment problems themselves to reduce service costs.
The new services ticketing program, which is a free service, will cover all Acquire Automation customers, including both those with and without Service Maintenance Agreements (SMAs), and was rolled out to customers on May 1, 2019.
Acquire Automation, Inc. is an industry leader in designing and
manufacturing vision inspection system solutions for the pharmaceutical and medical device, food and beverage, industrial manufacturing and consumer goods industries. These systems can inspect targets ranging from individual parts to complete manufactured products as well as the labels and codes applied to them. Headquartered in Fishers, Indiana, Acquire Automation serves customers throughout North America. For further information about Acquire and its inspection systems, email info@acquireautomation.com or visit www.acquireautomation.com.