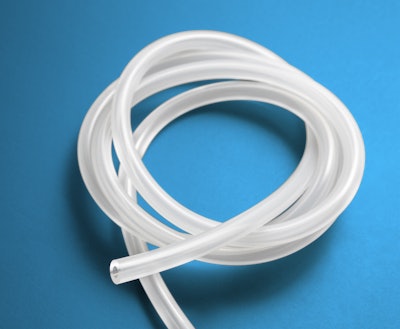 The new tubing capability range features an inside diameter of 0.2-25 mm (0.0079-0.984 inches), with wall thicknesses ranging from 0.10-3.0 mm (0.0039-0.118 inches), and tolerances as low as +/- 0.03 mm (0.001 inch). This newly expanded range of Natvar single-lumen silicone tubing is intended to better serve a range of medical pump applications, including peristaltic and patient-controlled analgesia (PCA) pumps.
Silicone tubing can withstand a wide range of temperatures and chemicals while maintaining strength and flexibility. Additionally, it does not support microbiological growth, making it ideal for medical and pharmaceutical pump applications. For peristaltic pumps, tubing size and tolerance is critical. The wall thickness of the tube must precisely match the gap between the pump roller and housing. Slight differences or irregularities in wall thickness can significantly reduce the life of a pump. Tekni-Plex's silicone tubing offers tolerances as low as +/- 0.03 mm (0.001 inches).
"The ability to supply tight tolerances in silicone tubing from our China facility will be of interest to pump manufacturers who assemble their medical devices in the region and have had challenges sourcing quality tubing," explains Bob Donohue, general manager, Natvar, a Tekni-Plex business. "Further, our manufacturing capability in China is backed by Tekni-Plex's global technology base."
The Suzhou facility opened in 2017, backed by a $15 million investment to support the growing needs of the Asia-Pacific pharmaceutical and medical device markets, as well as to provide a secondary supply source for other regions.