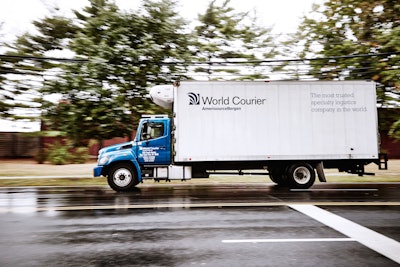 World Courier, a worldwide specialty logistics firm and a part of AmerisourceBergen, announced a multimillion dollar technology transformation initiative to improve its customer experience, quality assurance and operational efficiencies.
"Given the emergence of extremely valuable specialty products, like cell and gene therapies, we recognize the need to continue our investment in new technology in order to improve the customer experience and transform our services," says Sam Herbert, World Courier President. "These investments enable us to better address customers' evolving requirements, meet the needs of today's patient, and allow us greater flexibility to more quickly adapt and support the unique opportunities and challenges associated with these highly specialized products."
World Courier customers across the globe will begin to see the impact of the technology investments through greater real-time temperature and GPS tracking, data quality, supporting system integration and enhanced order entry functionality to create online orders faster and more conveniently.
Technology improvements to World Courier's transport management system will standardize workflow processes around the globe to optimize the supply chain and create consistency across the network for customers. For better internal tracking of shipments and processes, World Courier will adopt technology including automated integrations with denied party screening, customs clearance, airline status and DASH, a mobile app to increase efficiency throughout the supply chain.
In 2015, World Courier began investing in solutions and infrastructure that advanced global healthcare. The company has since implemented these investments in Canada, Portugal and Japan and will roll out improvements in additional markets in 2019.
Read the three-part series, "Packaging Critical for World Courier's Global Healthcare Shipments":
Part I: Temperature-Sensitive Shipments
Part II: Global regulations and personalized therapies
Companies in this article