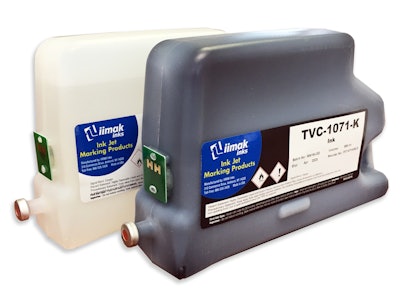 IIMAK, manufacturer of printing, imaging and marking consumables, announces the release of its 1000 Series replacement inks product line, compatible for the Videojet 1000 Continuous Inkjet (CIJ) Printer Series.

Formulated and filled in the USA, these inks are a "pour over" replacement option that work on Videojet 1000 printers 1220; 1520; 1550; 1610; 1660 and 1710 and more. Users replace the current cartridge with an IIMAK cartridge when the printer calls for ink, without the need for flushing, cleaning or maintenance.
The IIMAK 1000 Series replacement inks offer adhesion on many substrates, including metals, plastics and glass, and perform well in humid environments that typically inhibit adhesion, such as refrigeration. The inks are formulated to allow for crisp, finer-detail printing, making them ideal for alphanumeric text, graphics and barcodes. The product line also offers premium durability, a fast dry time and a two-year shelf life.